Fall is the perfect time to relax and restore after a busy summer. For some people a Pumpkin Spice Latte might fit the bill, but if you take your relaxation more seriously, head to Golden for some pampering at one of the town's spas or massage studios. And if it just doesn't seem like an autumn indulgence without some pumpkin spice, you can treat yourself to a latte afterwards at one of Golden's great coffee houses.
Here's a run down of Golden spas & massage studios:
Urban Escape Day Spa has been a Golden favorite for many years. Located in the heart of downtown Golden, this upscale full-service day spa offers only the highest quality relaxing, yet result-oriented treatments available. Services include facials, massages, pedicures, manicures, body treatments, waxing, tinting, acupuncture and much more. A locals' favorite is the "Wine Country Escape Massage Treatment" which includes a cabernet themed body treatment, hydrating mask on the back, hands and feet, a scalp massage, an aromatherapy shower and a 50 minute Signature Massage. Located adjacent to Indulge Bistro & Wine Bar, why not pair your massage with lunch and a glass of vino?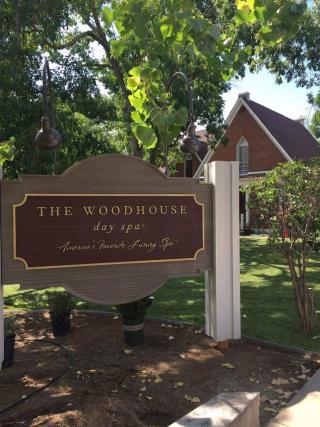 The Woodhouse Day Spa is housed in a charming Victorian home and offers a tranquil, transformative environment. Upon entering you're treated to a plush robe, reflexology sandals and the Quiet Room where you can sip on a selection of loose-leaf teas. The relaxation continues with a wide variety of treatment options, including body, foot, and hand treatments, massage therapy, skin care, sleep treatments and more. The signature "Four-Handed Massage" is award-winning and involves two therapists performing seamlessly choreographed, rhythmic movements that induce deep relaxation. Ahh!
The Golden Bodyworker offers massage that physically and spiritually aligns your body by improving circulation of blood and increasing the flexibility of muscles, ligaments and other soft tissue. A goal oriented Massage Therapy clinic offering a quiet and serene atmosphere, Golden Bodyworker is not a spa nor are they part of the medical community. Their mission is to get the aches, pains and misuse out of your body to get you feeling great and functioning again.
Vaia Salon & Spa can help you achieve your perfect style with services for hair, nails or make-up. A professional hair salon, Vaia strives to provide more than just an average salon experience. Whether you need a simple haircut and styling or a mani/pedi, their fun, friendly personal atmosphere is sure to make your visit a great one.
Symmetry Massage offers all types of massages, from Hot Stone to Reflexology. Located in downtown Golden in the historic Foss Building, their well-versed staff will customize each massage to your needs and preferences.
Health at Hand is Golden's premiere Ashiatsu barefoot massage practice offering  the highest quality, advanced bodywork and skincare treatments, at a fantastic value. With more than 20 years of experience, Health at Hand offers a friendly nurturing environment, a unique mix of services, and top quality products to deliver exquisite service to our clients.
Another excellent post-massage activity? A relaxing walk along Clear Creek where the Golden views are sure to make you feel even more serene!