Summer is over with snow falling in the high mountains of Colorado, but down in the foothills, Golden, Colorado offers year-round opportunities for hiking, mountain biking and even outdoor dining.  Relatively little snow and abundant sunshine mean you don't have to ever put away the hiking boots or bikes!  Four of the most popular fall and winter trails are:
NORTH TABLE MOUNTAIN AND MOUNT LICHEN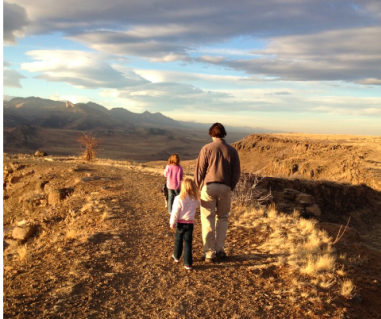 One of the chief landmarks of Golden is this broad, flat-topped mesa that rises hundreds of feet above the valley and is ringed by cliffs.  It is circled by a 5.9-mile bike or hiking trail, while other trails crisscross the butte.  A hiking only trail on top of the butte leads to the high point, Mount Lichen.  Due to the lack of trees on the butte, this area can usually be enjoyed year-round.  A large free parking area on Colorado Hwy. 93 just north of town has maps showing trails heading off clockwise, or counterclockwise around the mountain.  It's a mixed use trail with some steep climbs and single-track sections for bikers.  On top, look for herds of deer or visit an abandoned quarry.
With nine miles of trails, this sprawling Jefferson County park located just south of Golden on State Highway 93, butts up to Red Rocks Amphitheatre, which also offers a series of connecting trails.  Some shady patches of the trail can be muddy in spots in fall and winter, but because they are open rolling hills with limited trees, the trails are generally dry.  A particularly beautiful stretch is the 2.8 mile Red Rocks Trail, which climbs up some mild switchbacks, offering spectacular views of towering red rock formations as you approach Red Rocks Amphitheatre. 
SOUTH TABLE MOUNTAIN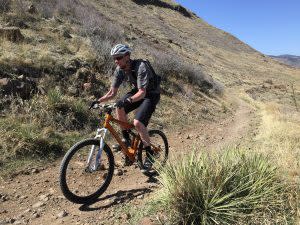 South Table Mountain is a high, tree-less volcanic butte with a series of "hiking only" trails offering mostly dry year-round hiking conditions, with spectacular views from the top. This is where the first fossilized bones of a T-rex dinosaur were discovered.  It's difficult to imagine, but this entire area was once a marsh of palm trees teeming with dinosaurs on the edge of a great inland sea.  It certainly doesn't look like that today.  While you're on top, you have a fascinating view of downtown Golden. 
You can stretch your legs year-round on this paved trail that offers a riverside stroll or bike ride up into Clear Creek Canyon or down to Denver. Selected by Westword as the best hiking trail on the Front Range, the path is open for everything from skateboarding to cycling. The mostly level recreational trail stretches in one direction from downtown Golden to the South Platte River in Denver, 19 miles away. Or head the other way 1.5 miles into the towering rocks of Clear Creek Canyon. Some exciting news:  work progresses on continuing the Peaks to Plains Trail down Clear Creek Canyon, which will one day stretch all the way from Idaho Springs to Golden.  Already, an exciting new four mile paved stretch has opened in the canyon at the Mayhem Gulch Trailhead, 12 miles west of Golden on Hwy. 6.  A new 1.75 stretch from Golden into the canyon will open in 2020.   
IMPORTANT REMINDER: Check the Jeffco Open Space Trail Closures webpage before you go on any trail, as seasonal closures due to mud and trail sensitivity may be in effect. And remember to always stay on the trails, even if they're muddy.
OUTDOOR DINING AND DRINKING
Golden's restaurants never put away the outdoor patio furniture! Abundant sunshine means that beer gardens and dining patios stay open year-round, making them the perfect place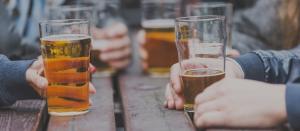 to stop after a hike or bike ride.
Downtown dog friendly beer gardens like Golden City Brewery and Mountain Toad often have outdoor fire pits. Cannonball Creek, Over Yonder, New Terrain and Coda breweries all have mountain views. Holliday Brewing is Colorado's only gluten-free brewery, while Barrels & Bottles offers a mixture of tap beer and tap wine.
All of the breweries have food trucks, but if you want some choice dining, the Bridgewater Grill and Sassafras offering outdoor dining along Clear Creek, while the newly refurbished Buffalo Rose has a solarium, an outdoor plaza, skylights and live music on the weekends. 
Pedestrian friendly downtown Golden also offers one-of-a-kind shopping, tap houses, BBQ, Thai, Chinese, Nepalese, Cajun, pizza, Mexican, Mediterranean, sandwiches made with buffalo and elk cold cuts, distilleries, and Native American art galleries, all in a historic Old West atmosphere.
It's not rare to visit the ski resorts one day and head to Golden the next for hiking, biking or even golf. What a Golden lifestyle we have!