The pandemic has put an end to many of Colorado's beloved beer festivals. But don't sit home and cry into your Oktoberfest Ale! Grab your bike, head to Golden, Colorado, the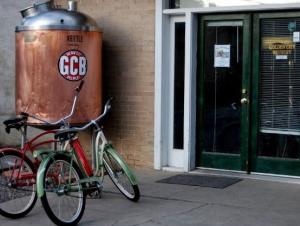 world's biggest little beer town, and create your own Craft Beer Biking Tour. Golden is home to nine craft breweries that are easy to pedal to and can provide the perfect reason to create a socially distanced adventure with friends.
Here's how to do it:
Start in Downtown Golden at the Golden Visitors Center at 10th and Washington. From here, there are six breweries all within an easy bike ride of each other, including:
Mountain Toad Brewery -- It's only a block to this iconic brewery, located at 9th and Washington and housed in what was an old machine shop that has been restored and transformed into a small brewhouse and taproom, with a beer garden in the adjacent yard. The brewery's name was inspired by the Rocky Mountain Toad. A toad is commonly viewed as an indicator to the health of an ecosystem. Check out the murals and artwork from Golden artist Jesse Crock.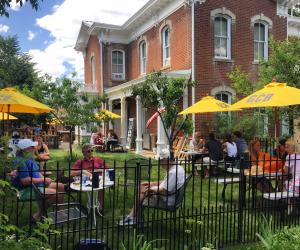 Golden City Brewery -- Next, head back to Visitors Center and access the Clear Creek bike path located behind the Center. Head west, pedal past the Golden History Museum and cross a bridge, heading towards 920 12th Street. You'll soon find yourself in the backyard of Charlie & Janine Sturdavant at their brewery, Golden City Brewery. Founded in 1993, Golden City is known as Golden's "Second Largest Brewery" and is a delightful backyard operation with its brewery in the carriage house and the taproom in the old garage. The beer garden is spread throughout the yard with picnic and bistro tables. Don't let the relaxed, local vibe fool you. Golden City is serious about its beer and has won numerous awards.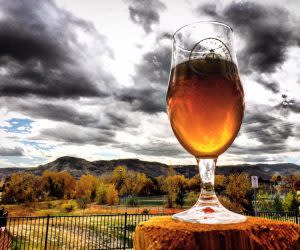 New Terrain Brewing Company -- Time to work off those beer calories biking three miles to New Terrain. Thankfully, much of your journey is on the paved off-road bike trail along 44th Ave. You'll then turn on Salvia Street and head up an unpaved trail that will lead you in through the back of the brewery property. Order your beer and kick back to take in phenomenal views of North and South Table Mountains from the patio.
Holidaily Brewing -- The easiest way to Holidaily Brewing (if you have a mountain bike) is right over the top of North Table Mountain. If you're on street bikes, it's a nice flat pedal around the mountain to this one-of-a-kind brewery dedicated to making delicious tasting gluten-free beers. Holidaily credits the deliciousness of its beer to high quality ingredients and knowledgeable employees. They use the finest locally sourced, malted, gluten-free grains as the base for and beers are also dairy-free and vegan with the exception of Honey Blonde.
Cannonball Creek Brewery  -- It's all downhill to Cannonball Creek, located at the corner of North Washington Ave and HWY 93. Founded in 2013, Cannonball Creek has impressive list of awards from the Great American Beer Festival. Founded by longtime Colorado craft brewers, you can sit and sip in their tap room with windows looking out to North Table Mountain or sit outside and order from a food truck to fuel up for your next stop.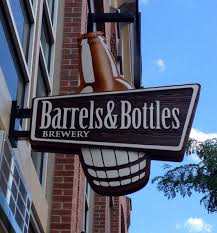 Barrels & Bottles Brewery  -- It's all downhill back to Barrels & Bottles, where you have your choice between two dozen craft beers – or two dozen fine wines. Barrels and Bottles even has a famous wine slushy, but since you're on a beer tour, you may want to save that for next time. They also serve elevated pub food and offer both indoor and outdoor seating.
Golden is also home to Coda Brewing, Over Yonder Brewing and Barrels & Bottles at Camp George West – all exceptional breweries that the more accomplished cyclists can easily add to their Golden Bike Tour but most people may want to opt to visit another time.
Of course, we suggest you drink responsibly and opt for small tasters at each stop along with a glass of water. The Golden Beer Tour is also a perfect weekend activity to spread over a few days. Cheers!