For City Manager Jason Slowinski, most every day in Golden is pretty perfect. Jason and his family moved to Golden in 2015 so he could accept the position of City Manager. Like most parents, he was concerned about how his school-aged daughters would handle the transition. But there was no reason to worry. According to Jason, "There are no 'outsiders' in Golden. It's an incredibly welcoming and friendly community and we feel lucky to now call Golden home."
Jason's perfect Golden day begins with coffee, black coffee. He enjoys visiting all the Golden coffee houses and usually frequents Windy Saddle, Higher Grounds or Bean Fosters.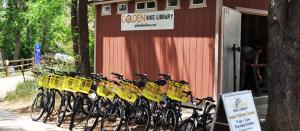 "But I've been to every Golden coffee shop. We have so many great ones." After his caffeine fix, Jason, his wife Stephanie and daughters Francesca, a student at Bell Middle School, and Sophia, who attends Mitchell Elementary, would stop into the Golden Bike Library to get bikes for a family bike ride along Clear Creek. Jason believes the Golden Bike Library is a wonderful city asset and the Slowinskis often take advantage of the free bike rentals.
Afterwards, the sporty family might grab a snack to go and then would hike one of Golden's many hiking trails. Jason's favorite trails feature a view of Golden, so they are partial to South Table Mountain and Mt. Galbraith where he enjoys "seeing Golden from a different perspective." He often tries to time his hikes to coincide with sunset for a spectacular evening view.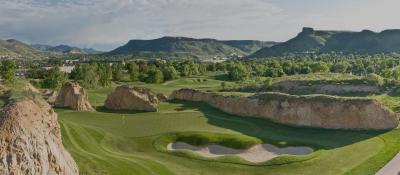 Next up on Jason's perfect Golden day? Golf at Fossil Trace. "It's one of the best courses I've ever played," Jason noted. "The views are second to none." He calls Fossil Trace a "hidden gem" and enjoys visiting during early evening sunset when he can hit balls on the driving range or get out on the course and soak in the views of Golden.
Jason's perfect Golden day would continue with a visit to one of the arts festivals. "We were fortunate to have two fantastic arts fests this year. I love to walk around, check out the art work, and catch artists, like Jesse Crock, in action."
For dinner, Jason and his family enjoy gathering at downtown restaurants. Recently they've dined at Bridgewater Grill, where they like to sit on the patio, Table Mountain Grill & Cantina – Jason loves the chips and salsa – and Indulge, where they enjoy the people watching and fun atmosphere. Afterwards, the family breaks up for ice cream with his youngest daughter choosing Goozell Yogurt and his oldest favoring Golden Sweets. With each girl enjoying her respective favorite, the family would head to the Colorado School of Mines to watch a sporting event at Lockridge Arena.
After Jason's perfect Golden day, the family returns to their Golden home to be greeted by their beloved Shih Tzu, a rescue dog from Foothills Animal Shelter.
"Golden is the perfect community for our family. We couldn't be happier," Jason adds.