In the year 2000, long-distance hiker, graphic artist and photographer Andrew Terrill left his home in suburban London and set off on a little 6,000 mile stroll from the Mexico-U.S. border to Denali National Park in Alaska. As an outdoor photographer, writer and professional wanderer, it was not his longest long-distance trek, but it turned out to be the most important when mid-way through he met his future wife, Joan, and they later settled down in the town where she happened to live: Golden, Colorado. They were married in the Boettcher Mansion, and with their two children now live in the shadow of North Table Mountain.
A graphic designer, part-time PE instructor at Compass Montessori, photographer and writer, Andrew has taken some of the most incredible photographic images of Golden ever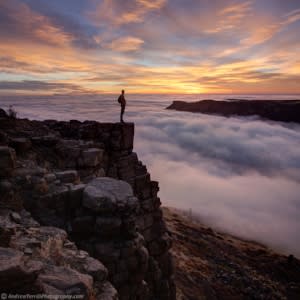 captured. His photos of Golden, as well as of Colorado and other locations, can be seen and purchased as fine art prints at his website www.andrewterrillphotography.com. His Golden photos will be featured in an exhibition, Golden Above the Clouds, to open at the Golden History Museum on January 17, 2019.
Andrew considers himself very lucky to live in Golden. "Growing up in London, surrounded by endless suburbia, I could never imagine I'd one day live in a place like Golden, or wake each day to see the foothills of the Rocky Mountains glowing with golden light. Being here never grows old."
For a perfect day in Golden, Andrew would begin with a short hike up North Table Mountain to watch the sunrise. The park is closed at night, however it opens one hour before sunrise.  It is here that he has captured some of his most dramatic photos, such as those taken when fog covers Denver and the plains, leaving North Table Mountain above in the sun, much like an airplane. "October and November are the best times of year for cloud inversions," he says, which can also be viewed (when conditions are right) by driving up Lookout Mountain.
Andrew doesn't always bring a camera with him to the mountains "because sometimes taking photos gets in the way of the experience."  But when he does, he tries to use photography to connect with nature to tell a story. "As a species, we are natural story tellers, going all the way back to painting on cave walls.  Photography is like that. You try to bring back a story and share a moment. But being out in nature is the key part, more important than returning with a good shot," he says.
After the morning hike, he would swing by Big Daddy Bagels to bring breakfast home and then gather the family for a walk along Clear Creek. "Golden is such a perfect family town. I always feel like I'm on vacation when I'm in my own home town," he says.  "No matter how many times I head downtown or along the creek I'll never lose that vacation feeling. We like to visit the Golden History Park and the Golden History Museum. And we are frequent visitors to the Golden Public Library, which sometimes feels more like a community gathering point than a library. We always meet people we know."
His kids also love stopping at the Golden Community Center for a swim and some indoor climbing, before visiting D'Deli for some delicious sandwiches to bring home.
On a perfect day, Andrew would fill the afternoon with a big run, a 'join-the-trails' 20-mile loop that encircles Golden and visits many of its open space highlights, linking the six summits that rise above town. "I'd travel from North Table to Mount Galbraith, across Clear Creek and up Mount Zion, on to Lookout Mountain, over Apex Open Space to the high point, then finally up South Table Mountain.  Along the way, he might call by Runner's High, Golden's running store, to swap running tales with the owners Deb and Ken, and to see what's new.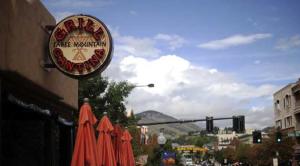 For dinner, Andrew can't wait until the Buffalo Rose re-opens (as a graphic designer, he designed the restaurant's new logo), but he also loves the Southwestern fare at the Table Mountain Inn. After dinner, he and his wife would finish the perfect day with a quiet walk around the neighborhood, where they always meet and bump into friends and neighbors to catch up. "I will never take any of this for granted," he says. "Golden is a rare place, special for how civilization and nature sit side by side. I love that the natural world is so easy to access, I love the amenities that Golden offers, and I love the fact that Golden is such a friendly, community town."