A hint of fall might be in the air, but Golden's fabulous Farmers Market will run through October 5th. Located in the parking lot behind the Golden Library on Saturday mornings, 8 am -1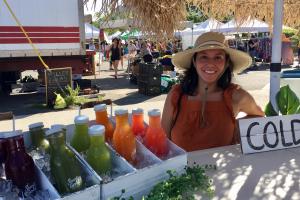 pm, the Golden Farmers Market is the perfect start to your Saturday. Listen to live music while you sample homemade jams and jellies and fresh baked breads and pastries. There are artists selling jewelry and baskets, and booths stuffed with colorful bouquets of flowers, jars of pickles, chocolate, cookies, and beef jerky. Sip some fruit juices, visit with friendly dogs, munch a breakfast burrito from a food truck or just people watch, all with the pleasant rushing sound of Clear Creek in the background. Combine a morning of market shopping with a walk along the creek -- it's the perfect Rocky Mountain way to begin the weekend. And there's free parking! Don't miss out on the last few markets of the season. 
Afterwards, here are ideas to round out a perfect Golden adventure: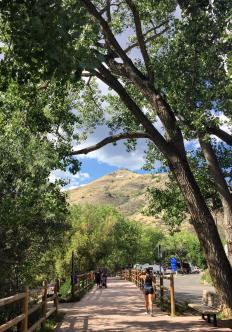 - Stroll the Clear Creek walking path or check out a bike from Golden's free Bike Library. During  the Fall, Golden's popular paths are less populated and you will enjoy the quiet beauty of Clear Creek Canyon if you head west towards the hills. 
- Enjoy lunch with a pal. Golden welcomed several new restaurants this summer so now is your chance to check them out or enjoy a long time favorite. There are plenty of places to sit outside or you can picnic at Parfet Park or along the creek with fare from the Farmers Market or one of the many spots in Golden that offer "grab and go."
- Check out the mostly locally owned downtown shops  and don't forget Golden's 3rd Annual Sidewalk Sale is set for September 28th!
- Why not pop into the FREE Golden History Museum & Park adjacent to the Farmer Market? Or the very reasonably priced American Mountaineering Museum or Foothills Art Center are both a short walk away. The Colorado Railroad Museum is another fun family spot to spend a Satur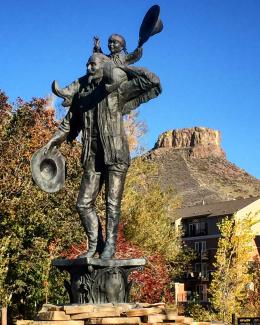 day. 
- Take the Coors Brewery Tour! The World's Largest Single Site Brewery is in your backyard and fall is a great time to take a tour and enjoy three free samples (for those 21 and older).
- Capture the moment with a photo from Oh Susannah's Vintage Photo Parlor. You and your friends or family will have a ball gussying up in Old West garb for photos. 
- How about an autumn hike? Enjoy fall colors by foot on Golden's hiking trails. 
Golden is a perfect place to be in fall - spend your Saturday with us!