National Grandparents Day was created as a way for families to honor and thank grandparents.  And there's no better place to enjoy a family outing than in Golden, Colorado. Here are some fun ways to honor your grandparents in Golden!
Brunch  - Located only 12 miles from downtown Denver, Golden is like a little mountain town with gorgeous views and a slew of attractive brunch choices.  Table Mountain Inn has a Southwestern flair.  Sassafras brings Cajun cookin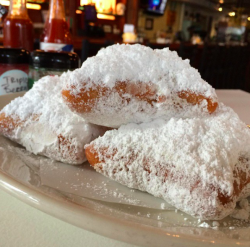 ' to Colorado with a view of Clear Creek on an outdoor patio. Bridgewater Grill at The Golden Hotel has another patio with a creek view and an array of brunch dishes, or try the newly reopened Buffalo Rose, where you can dine under skylights, on a patio terrace, or indoors, often with the sounds of live music. 
A Sunday Stroll - Golden is the perfect spot for a family stroll. Check out the Clear Creek Trail, honored by Westword as the best trail in metro Denver! The paved trail begins in the heart of downtown Golden and follows the creek for 1.5 miles up into Clear Creek Canyon.
A Day Out with Thomas  - Few things connect one generation to another like Thomas the Tank Engine. Visit the Colorado Railroad Museum in Golden on Sept. 7-8, 14-15 and 21-22.   After riding Thomas, there are indoor and outdoor model railroads, locomotives to climb aboard, cabooses to hang off, and a huge collection of railroad cars and engines to explore.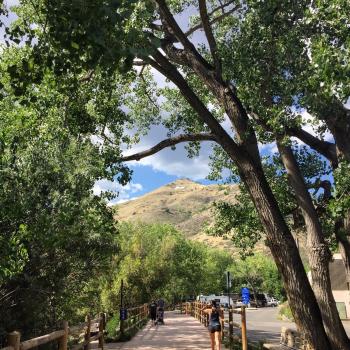 A Scenic Drive on the Lariat Loop - The Lariat Loop Trail is a 40-mile route that was created in the 1920s to connect a variety of Denver Mountain Parks, including Buffalo Bill's Grave, the Buffalo Lookout, Red Rocks Amphitheatre and Evergreen Lake.  It's still as thrilling as ever, with mountain views, a herd of buffalo, and so much more.  The Loop can begin and end in Golden, so you have opportunities for food and drinks coming and going.
Lunch at an Outdoor Café - Golden has plenty of spots for an outdoor patio lunch.  Two of the oldest favorites are Woody's Pizza and D'Deli Sandwiches, right on Washington Ave. Bask in the view from Schnepf's at Fossil Trace while you enjoy a delicious brunch. The Sherpa House has a lovely outdoor patio with mountain views and the brand new Tributary Market & Drinkery is a food hall with a patio and nine food stations offering a raw bar, Italian, cured meats, Kona bowls, gelato, pizza and so much more.
A Free Family Bike Ride - Check out a bike at the free Golden Bike Library (located along Clear Creek behind the Golden Visitors Center) and pedal away along the creek or explore the historic downtown.
An Afternoon at the Nature Center - The free Lookout Mountain Nature Center has exhibits on the many animals that call the Golden area home, including bears, mountain lions, and elk. There are pleasant "grandparent-friendly" trails all around the nature center.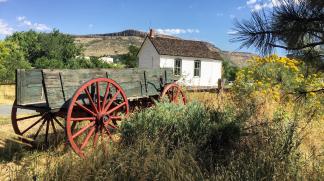 Visit Golden Gate Canyon Park  - Golden Gate Canyon has miles of trails for all abilities, as well as Panorama Point, arguably the best view of the mountains on the whole Front Range.
Golden History Museum & Park - Why not step back in time at the Golden History Museum & Park? It's free, fun and sure to spark conversations about what school and life were like, "back in the day!" There is also a great Golden historic walking tour you could enjoy together – stop into the Golden Visitors Center for info.
Golden is filled with multi-generational adventures for all! Check out more ideas on visitgolden.com.