Golden is glorious in the fall. Long after the aspens have peaked in the high country, Golden is aglow with the colors of autumn. Plus, Golden is a short drive from anywhere in the Denver Metro area, so you can enjoy a Golden day without spending too much time in the car. This year more than ever, getting outside to connect with friends and nature can boost your well-being. Here's why October is an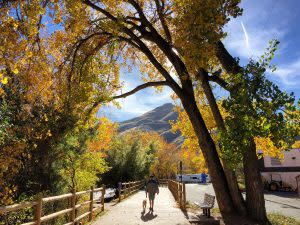 ideal time to visit Golden...
Autumn Colors -What could be prettier than a walk alongside fast rushing Clear Creek lined for miles with blazing yellow, orange and burnt red cottonwoods and maples? Enjoy the crisp air in Golden and take in the fall colors.
Golden Gate Canyon State Park - With more than 12,000 acres and 40 miles of hiking trails, this serene mountain park is simply gorgeous in fall when you can wander among thousands of shimmering aspens and see 100 miles of the Continental Divide. 
Downtown is Delightful - Golden's Main Street is Washington Avenue, home to the famous Welcome Arch that says, "Howdy Folks, Welcome to Golden!" And while Golden welcomes visitors year round, a visit in the fall features cooler weather, perfect for shopping in the charming and locally owned stores that line Washington Avenue. 
Less Crowds on the Trails - October is a lovely time to hike in Golden. The city offers terrain and trails for all ages and abilities. One of our favorites is Lichen Peak on North Table Mountain where you can catch views of downtown Denver as well as the snow capped mountain peaks.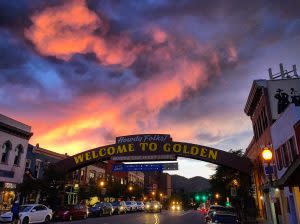 Plenty of Patios - There is plenty of patio space in Golden. They city expanded sidewalks along Washington Avenue and 12th Street to make room for more dining al fresco. You can sit and savor a meal and enjoy the downtown vibe and mountain views. 
Fall Sunsets on Washington Avenue or from North Table Mountain –Before we turn back the clock, you can still get to Golden in time for a pleasant weeknight stroll through downtown, dinner at a delicious local spot and a sunset on Washington Avenue. Or – head for the nearby hills for a post-work hike and sunset, followed by a craft beer in town.
Bikes & Brews – Most fall beer festivals are cancelled this year, so why not create your own? Pedal around town to the local breweries for samples of their autumn seasonal beers. The Golden Visitors Center even has a handout that will direct cyclists to Golden's local breweries.
Oktoberfest Hayrides & Ghost Tours - Sign up for some socially distanced fun with either an Oktoberfest Hayride or a Ghost Tour. There will be plenty of "spirits" with either autumn activity, sure to provide a fun getaway.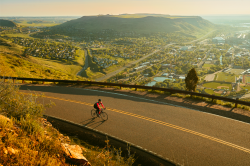 Take on Lookout Mountain – With cooler temps, many cyclists favor an autumn ride up Lookout Mountain. Or make the drive up Lookout to get an outstanding view of the fall colors in the Clear Creek Valley.
Golden Fall Field Trips -- Give your kids a break from remote learning and screen time by going an educational field trip to one of Golden's museums or cultural attractions, like Dinosaur Ridge or the Colorado Railroad Museum. Field trips can be great fun, especially when you get ice cream afterwards. 
Early Holiday Shopping - Golden's open air downtown is so fun to stroll. Why not knock out your holiday shopping in Golden? Supporting local merchants is more important than ever and you're sure to find unique, locally-crafted gifts that are fun to give and even more fun to receive.  
So what are you waiting for? Fall in love with Golden during the fall season!