Foothills Art Center Joins Growing List of Free Attractions in Golden
Throughout 2020, admission to Golden's Foothills Art Center (FAC) has been waived thanks to the generosity of museum donor Betsy A. Thorpe.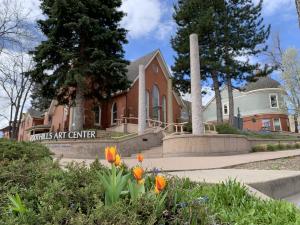 FAC is Golden's third major cultural attraction to offer free admission, joining the Golden History Museum & Park and the Mines Museum. Additionally, the Golden Bike Library, which is open from May - October, allows visitors to check out a free bike. 
"Visitors have long gravitated to Golden to enjoy free mountain recreation, like hiking, biking, fly-fishing and kayaking," said Megan Pinson, marketing manager for Visit Golden, "Now you can explore Golden's arts and culture for free too. Browse the artwork at Foothills Art Center, step back in time at Golden's History Museum and admire the precious gems and minerals at the Mines Museum. Visiting Golden is easy, entertaining and inexpensive."
FAC Director Hassan Najjar noted, "Our ultimate goal is to have a substantial number of people call Foothills Art Center their cultural home. We don't want our admission fee to serve as a barrier for entry and are excited to provide access to as many folks as possible to enjoy the arts in Golden."
Located only 15 miles from Denver, Golden offers authentic, small town charm in a gorgeous setting. The city is home to nearly a dozen cultural attractions and museums, and offers world-class recreation, a revitalized dining scene and year-round activities and events. 
FAC is an acclaimed regional arts center, offering classes, exhibitions and events to inspire and engage the community. Although admission is free throughout 2020, FAC memberships are still the best way to experience and support the center and offer a variety of perks. Learn more by visiting www.foothillsartcenter.org.
For more ideas on what to do in Golden, a list of upcoming events and more ideas on free activities, check out visitgolden.com or stop into the Golden Visitors Center at 1010 Washington Avenue in the heart of downtown Golden.