Golden Rules, and not just for its gorgeous scenery, epic trails or excellent art scene. The city is home to good-hearted people, civic-minded businesses and a spirit of Western hospitality that has shone brightly during the past few difficult months. As people across the globe grapple with the COVID-19 pandemic, Golden businesses and residents have stepped up to help one another get through.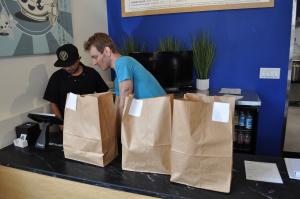 Here's a few examples of why Golden Rules. Help us keep track of all the good things happening in Golden. Let us know of any non-profit programs, neighborly deeds of other examples of the Golden Rule in action and we'll add them to our growing list.
Helping Cover the Rent for Downtown Golden Businesses -- Golden's Downtown Development Authority voted to pay 50% of April rent up to a maximum of $2000 for businesses directly impacted by COVID-19 within the DDA boundary. It is estimated that approximately 110 businesses qualify. Learn more: https://www.guidinggolden.com/helping-golden.
BGoldN Feeds Restaurants & Fuels Restaurants – With restaurants struggling and residents facing financial stress, Golden Mayor Laura Weinberg thought, why not start a program to help them both? She enlisted the help of Tyson Noeth of the Golden Backpack Program and Jen Thoemke of Café 13/Connects Workspace to create BGoldN. This worthwhile program got off the ground in no time and now a dozen Golden restaurants are paid to make to-go breakfast and lunches that volunteers distribute to people in need at a drive-up location. Learn more about BGoldN here:
AC Golden – Made right here in Golden, Colorado Native is the AC Golden beer brewed from entirely Colorado-grown ingredients.  AC Golden, a Molson Coors Beverage Co. craft brewery, donated $20k to the Colorado Restaurant Association to help service industry members who are out of work due to state-mandated shutdowns. Cheers, AC Golden, we'll drink to that!
Molson Coors – Donated 50,000 cans of water to the Salvation Army Intermountain Division to assist with the organization's COVID-19 relief efforts.The water will be distributed to the metro area's homeless and others in shelters who lack access to clean drinking water due to restrictions on drinking fountains aimed to stop the spread of the virus. Molson Coors  has also donated 154,000 cans of fresh drinking water to truck drivers across the United States and Canada in an effort to help keep them safe by limiting the amount of stops they need to make for supplies during the COVID-19 pandemic.
Golden Moon Distillery – Westword's Best of Denver 2020 Best Distillery winner is supplying hand sanitizer to the police officers.
State 38 Distilling – Golden's award-winning boutique distillery is donating a portion of its bottle sales to the Colorado Bartenders Guild.
Biscuits & Berries – Has started Feed the frontlines denver, a campaign to raise money to feed Colorado's ER & ICU staff, EMS workers among others. During this unprecedented crisis, Biscuits and Berries will use its commercial kitchen space and resources to produce safe lunches and dinners to be distributed to frontline workers.
Rocky Mountain Quilt Museum: Is working with area quilters and sewers to make face masks for people in need. The  Golden Civic Foundation is handling the distributions of the face masks.
CoorTeK: A ceramics company, which is nearly as old as the Coors brewery, is making ceramic parts for Ford Motors, which has been ordered to build ventilators that will go into hospitals to help patients who are sick with the disease caused by the coronavirus.
Free Parking – the City of Golden suspended the enforcement of downtown paid parking until further notice. This definitely helps make it easier for people to support local restaurants by picking up to-go meals.
Golden Teddy Bear Walks – Friendly neighbors in Golden have been displaying teddy bears in their front windows. Possibly inspired by a popular children's book, "We're Going on a Bear Hunt," the bears are a fun way to encourage local kids to hunt for bears and exercise while schools are closed.
What else is happening in Golden? Let us know why you think Golden Rules as we all lean on one another to get through this uncertain times. Comment below or send an email to