There might not be a National Western Stock Show in Denver in 2021, but that is no reason to let dust gather on that Stetson hat in your closet.  Since 1949, the huge arch across the main street in Golden, Colorado has proclaimed "Howdy Folks!  Welcome to Golden –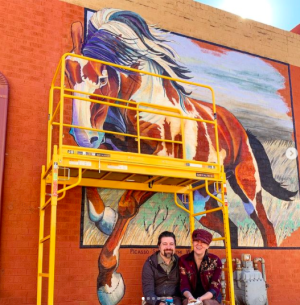 Where the West Lives!" 
And the West is still alive in Golden!  Located just 12 miles west of the National Western Complex in Denver, walking down Golden's historic main street is like a stroll back into the Old West with Native American galleries, Old West storefronts, colorful murals, and covered arcade sidewalks. 
The most famous character of the Old West, Buffalo Bill Cody, is buried in Golden, and here you'll also find Colorado's largest collection of historic steam locomotives and railroad cars. Right downtown along Clear Creek is the 1878 Pearce Ranch, an authentic homestead with barn, working blacksmith shop and a chicken coop where youngsters can feed a variety of heritage chickens.  
Golden is a perfect day trip adventure to experience a piece of Colorado Old West history.  You can take part in a Wild West Walking Tour with Golden History Tours, book an Old West photo shoot at Oh Susanna's Vintage Photo Parlor. Check out the new mural by Golden artist Christina Morrison of Picasso, the West's most famous horse. Top it all off with a visit to a Golden "saloon."
Here are some things to do in Golden to get your Western blood pumping.
Meet Buffalo Bill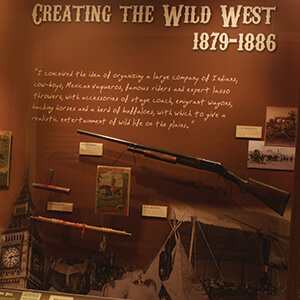 Buffalo Bill Cody was the most famous character in the history of the American West, a buffalo hunter, Pony Express rider, and scout for the U.S. Army.  Starting in 1883, his Buffalo Bill's Wild West show was performed in more than a thousand cities in 12 different countries.  Bill was the first "super star." He brought along 640 cowboys, Indians, Vaqueros, ropers, trick riders, and sharpshooters, making his show more than 10 times the size of Beyonce's World Tour.
Buffalo Bill was visiting his sister in Denver in 1917 when he took sick and died.  He asked to be buried on top of Lookout Mountain with its views of the plains and snowcapped peaks and his funeral there was the largest in Colorado history.  Today, a fun museum brings his incredible story back to life with costumes you can try on for photo opps, and artifacts like Chief Sitting Bull's headdress, posters and pictures from the show. Don't miss the gift shop – one of the largest Western stores in Colorado.
The drive to the grave site on top of the mountain begins in historic downtown Golden on the Lariat Loop Trail.  This is a white-knuckle thriller, with cliffs on every turn, and the panoramic view from the museum's outdoor deck is one of the best on the Front Range.
Climb Aboard a Steam Locomotive
It was the railroads that won the West and the Colorado Railroad Museum has the largest collection of steam locomotives, private cars, and model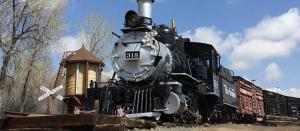 trains in the state, all of which offer hands-on experiences.  Climb up into the cab of a locomotive and ring the bell.  On weekends, you can ride the famous Galloping Goose – a 1928 Pierce Arrow limousine put on train wheels with a bus welded on the back.  The Galloping Goose once delivered mail over Colorado's Lizard Head Pass, and it's a fun ride as it circles the museum on a half mile of track.  There's a huge HO model railroad in the basement, and on weekends, there are large G-scale model trains running outdoors, blowing whistles and making chugging sounds as they circle around on a gigantic setup that operates even in snow.  There's also a Thomas the Tank Engine play area for the little ones.
Walk in a Real Colorado Ranch – the White Ranch
Ute and Arapaho Native Americans once camped and hunted on the land that is now White Ranch Park, the largest park in the JeffCo Open Space System with 20 miles of trails.   In 1865, James and Mary Bond built a homestead and farm here.  They were bound for California, but settled on this land after their young son was accidentally killed under the wheels of their wagon.  Their house still stands on the park grounds.  There are 18 miles of multi-use trails for hiking, snowshoeing, cross country skiing or when the weather cooperates (as it often does in January) even mountain biking … all with panoramic mountain and homestead views.  The 4,300-acre park is located 2.7 miles from the restaurants and breweries in downtown Golden.
Stroll Golden's Western Main Street and Riverfront
There's no place on the Front Range as Western as downtown Golden.  Stroll along plank board sidewalks under a covered arcade past historic storefronts that are now filled with recreation stores, fashions, artworks, ice cream, candy, jewelry and more.  Generals U.S. Grant, Sherman, Buffalo Bill and many other famous Western characters walked these same streets.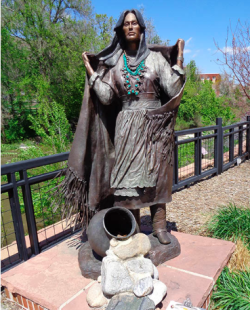 You can find authentic Native American jewelry and paintings at Wings of Eagles Native American Art, while the nearby Silver Horse, Outpost of the New West, has boots, hats, Western wear and Native American jewelry.   Take a one block detour along the south bank of Clear Creek to the Golden History Park, an authentic homestead from the 1800s with cabins, barn, schoolhouse and a working blacksmith shop, all in a beautiful location on the river.  Bring some quarters and you can feed the chickens in the farm's chicken coop.  Then cross the footbridge over Clear Creek to the Golden History Museum to learn about Golden's many industries, from coal mining to making Jolly Rancher candy and Coors beer.
Feeling Hungry?  Dine Western
Golden excels in offering tastes of the Old West.  The Old Capitol Grill & Smokehouse is located in the first capitol building of Colorado territory! Back then it was a frontier saloon.  Today, it mixes great pub fare and its own smokehouse BBQ.  Across the street is The Buffalo Rose, the perfect place for delicious food items such as the Wild West Burger, pulled Colorado lamb sandwich, Bison ribs, and buffalo burgers, as well as signature cocktails and craft beers. The attached concert hall attracts some of the biggest names in rock, country & western, and blues once COVID restrictions are lifted. 
You can try a buffalo ruben or even a smoked elk sandwich at D'Deli, consistently ranked as the No. 1 sandwich shop on the Front Range, or get a taste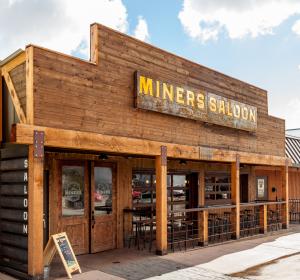 of the Old Southwest at Table Mountain Inn Grill & Cantina.   This adobe palace is filled with indoor tile, rugs, lamps and fireplaces to offer a variety of Southwestern and Mexican foods.  Care for a drink?  The Miner's Saloon is reminiscent of Golden's mining days blending an old West saloon feel with a contemporary edge.  They have 24 taps (the most in downtown Golden) and more than 50 beers in bottles and cans, as well cheese or homemade sausage boards, spiced candied bacon (there goes the diet!), wild game chili and salads and sandwiches.
So Giddyup and Bring the Family to Western downtown Golden!   Visit Golden for more info.