Plan a fun family outing on foot or by car this holiday season in Golden, Colorado. Wander along postcard perfect wintry creeks, pass by cheerful holiday stores, sip hot cocoa and window shop for holiday surprises throughout town.  Or load up the car and hum holiday tunes while you safely explore scenic nearby mountain roads with classic Colorado views.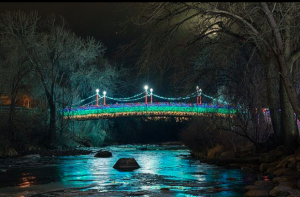 Make memories this year with one of these safe, socially-distanced Golden excursions:
Festive Strolls: You can enjoy a festive stroll through Golden anytime. Or time your visit when there will be ice sculptures (a new one every Friday in December) or holiday characters wandering through town (Saturdays in December). View a full list of holiday events here.   :
Golden's Holiday Lights:  Golden is such a picturesque town during the holidays. Park for free near the Washington Avenue Bridge, pick up a warm drink from a Golden coffee house and begin your walk at twilight along the paved Clear Creek Trail. Access the trail behind the Golden Visitors Center at 10th & Washington and head west, toward Mount Zion looming in the distance. Walk beside the beautiful river under a canopy of colorful lights, reflecting in the icy waters. More than a half million lights cover the trees along the creek, creating an unforgettable holiday experience for the whole family. There are paved trails on both sides of the creek with pedestrian bridges offering panoramic viewpoints of this winter wonderland. Step back in time as you wander through the Golden History Park on the north side of the creek and be reminded of frontier holidays past. Make your way through the lively town, where inviting store fronts are filled with merry scenes. Grab a photo under the Golden arch, pick up takeout or sit under a heated lamp on a patio to enjoy a brisk dinner under the stars.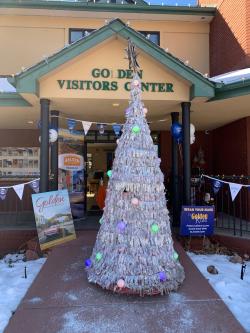 Olde Golden Christmas Holiday Story Stroll: What is the history behind Christmas? How do people celebrate Solstice? What is the Feast Day of Our Lady of Guadalupe?  Who is St. Nicholas?  These are just some of the fascinating things families can learn while on the hunt for worldwide holiday traditions and stories scattered throughout Golden.  Pick up a map in the magazine racks outside of the Golden Visitors Center at Washington Ave. or download "SCAVIFY" app and search for 'Holiday Story Stroll' to earn points and win prizes as you make your way through downtown Golden to 11 markers where you can learn all about different religious ceremonies and celebrations around the world.
Golden Public Art & Winter Ale Tour: Combine the love of beer with the love of art for a fun winter walk around Golden. The city has a self-guided Public Art Walking Tour visiting some two dozen murals and sculptures. For the holidays, there will also be weekly ice sculptures around town. And, don't miss the three brand new murals brightening downtown including one of Picasso, the West's most famous wild horse. Along the way or afterwards, plan a stop at one of downtown Golden's breweries or taverns.
Many of the downtown breweries have greatly expanded their outdoor beer gardens to allow for social distancing. Mountain Toad has outdoor fire pits. Golden City Brewery has a new outdoor wood canopy and now features mini fireplaces on tables where you can melt marshmallows and chocolate to make your own delicious S'mores. Barrels & Bottles has both tap wine and beer, and many of the town's bars have greatly expanded outdoor seating areas and heat lamps.  Enjoy a beer outside or grab a growler to go.  Want to try something different?  Downtown Golden also has the Golden Moon Distillery offering a wide variety of mixed drinks and the Colorado Plus 49 Cidery & Pub, with taster trays of different hard ciders.  
If you want to bring home some art after your art tour, stop at the Holiday Art Mart at the Foothills Arts Center featuring hundreds of unique gifts by Colorado artists, all at affordable prices.
Window Shopping on Washington Ave.: Washington Ave. is decorated with thousands of twinkling lights and evergreen boughs, and all the little one-of-a-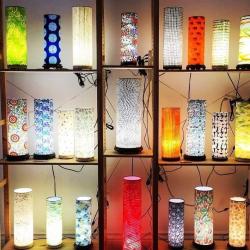 kind shops have wonderful window displays.  As the closest mountain town to Denver, the people of Golden love to live outdoors and this is the place to "gear up" with shops dedicated to mountain climbing, fly fishing, skiing, kayaking, rock climbing, and camping with all the clothing and equipment you'll need.  There are also clothing boutiques, jewelry stores, antiques, toy shops, art galleries and the popular Holiday Art Mart, offering unique gifts handcrafted by local Colorado artists. 
Break your window shopping with a specialty coffee or lunch at one of the town's delightful outdoor cafes, or stand by a fire in one of Golden's outdoor beer gardens.
Holiday Drives:
The Old West and Red Rocks Loop. To enjoy both a scenic drive and festive walk, take I-70 west from Denver to Colorado Hwy. 58, Exit 265. This is the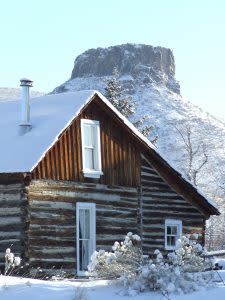 "Golden Freeway" that will take you through a scenic backdoor of Clear Creek Valley, right between North and South Table Mountains. Exit at McIntyre and drive by the Colorado Railroad Museum to get a taste of old steam locomotives and railroading in the West. (Call ahead to check museum's hours if you want to visit.) From the museum, follow West 44th Ave., past the world's largest single site brewery, Coors Brewery, and into downtown Golden, the original capital of the Colorado Territory. Turn left on Washington Ave. and find easy parking to walk through this historic downtown, festively decorated for the holiday. Walk along the paved Clear Creek Trail to the free, open air Golden History Park, an historic 1860s farmstead and school house with a working blacksmith shop on the weekends.  Bring some quarters and feed the chickens in the historic 1880s chicken coop.
Grab a quick lunch or a to-go snack or coffee at one of the cafes before you hit the road again. Leave Golden on Hwy. 6 heading east for a few miles and turn right on Hwy. 40, which winds over the Dakota Hogback to Dinosaur Ridge. Here, you can make another stop to view actual dinosaur bones from 70 million years ago, still imbedded in rock. There are bus and walking tours for a slight fee, or visit the site on your own for free. 
Literally across the road from Dinosaur Ridge is the entrance to Red Rocks Amphitheatre. If the park is open, follow signs and drive to the uppermost parking lot, where you will be on top of the stage with views of the two 400-foot high red sandstone monuments that make this a famous outdoor amphitheater. Most days, you can see downtown Denver, 12 miles away, and the white tent roof of Denver International Airport, almost 40 miles in the distance.  There's a museum dedicated to all the musicians that have played at Red Rocks, and there are several hiking trails.  The 1.4 mile Red Rocks trail winds among the rocks, while the trail to the Geologic Overlook offers panoramic views in all directions.  From Red Rocks, you can either return to I-70 the way you came or continue south to Hwy. 285 which also heads back to Denver.
Clear Creek Canyon to Central City: Pick up a latte and a delicious pastry or breakfast burrito in one of Golden's many cafes and then head up Hwy. 6
 through Clear Creek Canyon. This is one of the narrowest, steepest and most dramatic canyons in Colorado, and is internationally known as a rock climbing area. Stop at Mayhem Gulch Trailhead, 12 miles west of Golden, and enjoy a wintry walk on the new paved Peaks to Plains Trail. One day, this trail will stretch from Idaho Springs all the way to Golden. Currently, there are four miles of creek side paved trails.  
At the junction with Hwy. 119, turn right to Black Hawk, the largest gambling center in Colorado with 10,000 slot machines, poker, Blackjack and roulette in nearly two dozen casinos. From Black Hawk, turn left and climb one mile to the historic mining town of Central City. Once called the "richest spot on earth," Central City in the 1870s had a population of 30,000 and was the largest gold rush boom town in Colorado. On the hills and dirt roads above town, you'll find historic graveyards, old mines and ghost towns. 
You can take the deluxe, four lane Central City Highway back to I-70 east, enjoying views of Mountain Evans along the way.   On I-70 east, stop at exit 254 to see De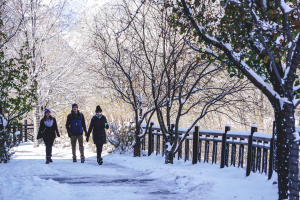 nver's buffalo herd.  Once, millions of bison occupied the plains of Colorado.  Today, the city of Denver maintains 40 head of buffalo in a beautiful location.  The buffalo have their own tunnel under I-70, so you'll have to look around to see where they are.   From here, it's a short drive back to Golden for a well earned visit to one of the town's eight beer gardens.
Family drives and festive walks are a safe and fun way to celebrate the holiday. Load up some holiday tunes, fuel up with some to go goodies from Golden and enjoy the Colorado countryside.  Later, stop in the town after the drive at classic Woody's Wood-Fired Pizza or one of Golden's many other restaurants for a take-out dinner, which helps support a Golden restaurant.
Head to www.VisitGolden.com for more information on all the fun things to do in Golden!