No doubt about it -  Golden is a pretty sweet town. It's home to the nation's only mountaineering museum. The Golden History Museum &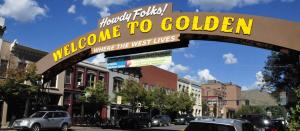 Park offers free admission all year long. The downtown is lined with unique, locally owned shops that stay open late on summer weekends. Golden is teeming with public art set along the gorgeous Clear Creek walking path and throughout the lively downtown.
But the sweetest reason to love Golden? How about the many decadent desserts and tasty treats found in Golden? We asked locals for their favorite "sweet spots" in Golden. Here are a few spots to savor during your next visit:
Turtle Cupcakes from Gold Mine Cupcakes are the perfect size with just the right amount of drizzled caramel, chocolate and sprinkled nuts. Yum!
Berry Bars from Windy Saddle Café have a delicious oat crumble top and rich berry filling.
Chocolate Babka Rolls from the Grateful Bread Artisan Bakery. They are a decadent treat made with thick chunks of Belgian dark chocolate. 
Candied Bacon from Miners Saloon. The ultimate combination of sweet and salty. While it may not be a traditional dessert, it's wonderful.
Fresh Beignets from Sassafras. These deep fried delights are a favorite. Why not wash them down with a Chai Snickerdoodle Latte?
A good old-fashioned ice cream cone from Golden Sweets. Lots of flavors to choose from as this Golden staple. Go for the sprinkles too!
Crème Brule from Bridgewater Grill. Sit on their creekside patio while indulging in this creamy treat.
Turkish Toffee frozen yogurt from Goozell Yogurt. No need to add any toppings – just amazing on its own!
What's your favorite Golden sweet spot?