Since 1949, the huge arch across the main street in Golden, Colorado has proclaimed "Howdy Folks!  Welcome to Golden – Where the West Lives!"  At no time is that more appropriate than when the National Western Stock Show & Rodeo comes rip-roaring into town, Jan. 7-22, 2023.
Golden is just 12 miles west of the National Western Complex in Denver, but a world away in atmosphere.  Walking down Golden's main street is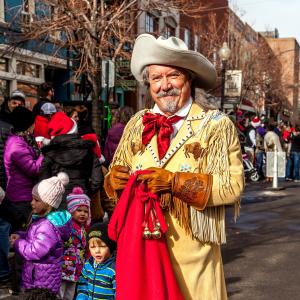 like a stroll back into the Old West with historic storefronts, colorful murals, and covered arcade sidewalks.  The most famous character of the West, Buffalo Bill Cody, is buried in Golden, and here you'll also find Colorado's largest collection of historic steam locomotives.   Right downtown, is the 1878 Pearce Ranch, an authentic homestead with a barn, working blacksmith shop and a chicken coop where youngsters can feed a variety of exotic chickens.   And of course, Golden is home to Coors Beer – the largest brewery in the world with free tours – and samples.
Here are five things to do in Golden during the Stock Show.
1. Meet Buffalo Bill
Buffalo Bill Cody was the most famous character in the history of the American West, a buffalo hunter, Pony Express rider, and scout for the U.S. Army.  Starting in 1883, his Buffalo Bill's Wild West show was performed in more than a thousand cities in 12 different countries.  Bill brought along 640 cowboys, Indians, Vaqueros, ropers, trick riders, and sharpshooters, making his show more than 10 times the size of Beyonce's World Tour.  A version of his show takes place at the National Western Stock Show & Rodeo every year.
Buffalo Bill was visiting his sister in Denver in 1917 when he died and his funeral on top of Lookout Mountain was the largest in Colorado history.  Today, a fun museum near the grave brings his incredible story back to life with costumes, guns, artifacts like Chief Sitting Bull's headdress, posters and pictures from the show.
The drive to the grave site on top of the mountain begins in historic downtown Golden on the Lariat Loop Trail.  This is a white-knuckle thriller, with cliffs on every turn, but the panoramic view from the museum's outdoor deck takes in everything from snowcapped peaks to the plains and downtown Denver.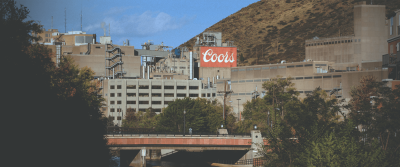 2. Tour Coors
Coors is the official beer of the National Western Stock Show.  So come on out and have three free sample beers on Coors! The brewery has a free, 60-minute, tour of the malting, brewing and packaging of Coors Beer. Reservations are required so be sure to book asap. You get to explore a room full of giant copper kettles and then stop in the packaging room, where thousands of cans and bottles whirl by, marching one-by-one on tread mills to be filled with beer and slotted into six packs.  After the tour, those 21 and over can sample three free cups of Coors (you get to keep the aluminum cups), Colorado Native, George Killians Irish Red and other Coors beers.  Cowboy Tip:   If you already know how beer is made, ask for the "short tour," which is no tour at all.   They'll direct you straight to the free tasting room and gift shop.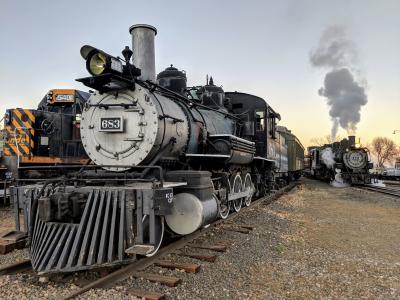 3. Climb Aboard a Steam Locomotive
It was the railroads that won the West and the Colorado Railroad Museum has the largest collection of steam locomotives, private cars, and model trains in the state, all of which offer hands-on experiences.  Climb up into the cab of a locomotive and ring the bell.  On Jan. 17, you can ride the famous Galloping Goose – a 1928 Pierce Arrow limousine put on train wheels with a bus welded on the back.  The Galloping Goose once delivered mail over Colorado's Lizard Head Pass, and it's a fun ride as it circles the museum on a half mile of track.  There's a huge HO model railroad in the basement, and beginning on Jan. 14 on Saturdays, you can hop on-board a passenger car pulled by a powerful locomotive! Rides depart every 30 minutes 10am-3p.m.
4. Enjoy Downtown Golden
There's no place else on the Front Range of Colorado quite like downtown Golden.  Stroll along plank board sidewalks under a covered arcade past historic storefronts that now are filled with outdoor recreation stores, boutiques, art galleries, Western wear, Native American jewelry, toys, ice cream, and candy.  Or take a stroll down the paved path that follows Clear Creek up into the mountains. There are six craft breweries in Golden, all with outdoor dog-friendly beer gardens.  Golden offers a variety of great restaurants, from the Southwestern ambiance of Table Mountain Inn to mouthwatering bbq at the Old Capitol Grill & Smokehouse (housed in the building that served as the first capitol of the Colorado Territory).   
5. Take a Wild West Walking History Tour by Golden History Tours
Golden History Tour guides regale tour-goers with true stories from the Wild West, transporting you back to those rough-and-tumble times. Hangings to hijackings, shootouts to showmen, Golden boasts many firsts and some outrageously true Wild West stories. The tour runs through the streets and parks of Golden while your tour guide takes you back to those frontier days and brings Golden's and Colorado's past to life through entertaining storytelling.  These tours are family friendly and ADA compliant, and everyone gets a signature Golden Bandana as a souvenir!
Tours run most weekends and some weekdays and can be requested on demand. Check their website for the most up-to-date tour schedule and other options.