Got the Tuesday and Wednesday Blues?  Replace them With Streamside Walks, Hikes, Beer Gardens, Live Music, and Mountain Views –It's All Closer Than You Think!
Golden has all the charm and attractions of a mountain village, but it's just 12 miles from downtown Denver.  That makes it the perfect place for a midweek break.  Head to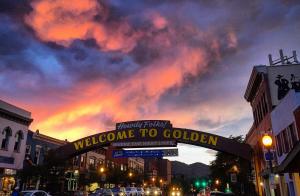 Golden straight from the job and in a short time you can be hiking, biking along a mountain stream, sipping a brew at a beer garden with mountain views, dining in a food hall with nine different food stations, or enjoying live music at some of the best clubs on the Front Range. 
Here's your guide to a mountain of fun in Golden:
TRAILRUNNING:    Tuesday nights, the Golden Mountain Runners meet at a Golden brewery at 6 p.m. and head out for a trail run.  There are runs up North Table Mountain, Mount Galbraith, Apex, Green Mountain, and Mount Zion.  There are costume runs, and all runs end with beers.  Check their Facebook page for details.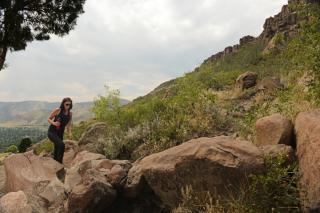 HIKING:  Golden sits in pretty Clear Creek Valley, surrounded by hiking opportunities.  Lichen Peak, South Table Mountain and Lookout Mountain can all be climbed from town.  Golden Gate Canyon State Park, Apex, the Mathew Winters trails and Mount Goliath are nearby and offer wonderful short hiking trails, many with gorgeous mountain views.  Here's a guide to easy trails near Golden.
BIKING:  Golden is home to some of the most iconic bike rides in Colorado, which is one of the reasons it will be featured for the Stage 3, all-women Colorado Classic bike race on Aug. 24. There are so many other nearby rides for road bikes, mountain bikes, cruisers and everything in between.  Here's a list of many bike trails nearby.
LIVE MUSIC:   The Buffalo Rose has been the "Pulse of Golden" since 1859.  This authentic American West saloon has gone through many transformations over its history.  Today, it has just completed a major refurbishment with outdoor decks, a new bar and several stages including a main stage that can seat 650 people for top rock, country, folk and other types of music.  Check the schedule to see who is playing. Golden has numerous other music venues, including free outdoor concerts Fridays in August as part of the Movies and Music in the Park. You'll also find live music almost every night of the week – check the calendar at GoldenToday.com for live music tonight.  And of course, Golden is home to the Origin Hotel, the "Official Hotel of Red Rocks Amphitheatre," which is a short ride from the world famous concert venue.   Check the Red Rocks schedule.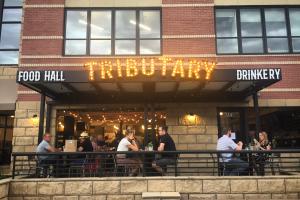 DINING:  If you haven't eaten in Golden recently, you haven't eaten in Golden.  There's been a restaurant revival in this little historic town, with more restaurants on the way.  The new Tributary Food Hall & Drinkery opened on Aug. 2 with nine food stations offering a bakery, seafood, bagels, pizza, gelato, raw bar, smoothies, sandwiches, Kona bowls, Italian, craft cocktails, sandwiches and so much more. The newly reopened Buffalo Rose has an entirely new menu, and there is every other type of cuisine in Golden, from Middle Eastern to Nepalese, from Southwestern to Cajun, from BBQ to Thai, as well as some of the best pizza and deli sandwiches on the Front Range, full list here. Golden, with lots of available free parking, makes the perfect place for a pre- or post-concert drink or dinner.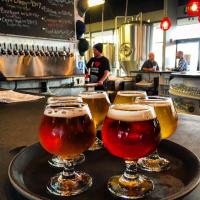 BEER & DISCUSSIONS:  Golden is the biggest little beer town in the world with seven craft breweries with beer gardens and Coors -- the world's largest brewery.  What goes better with beer than discussions?  Golden Beer Talks is a group that brings in fascinating speakers to mix with brews once a month on topics ranging from dating drought years and weather predicting through tree rings to Colorado's nuclear history.  Check out the schedule of upcoming talks. And of course, you can also do your own discussing on an impromptu beer crawl in downtown Golden, visiting breweries, distilleries, tap houses and craft cocktail bars.
No matter when you visit, time spent in gorgeous Golden is sure to be a highlight of your week. For more info, check out visitgolden.com.