GUEST BLOG FROM: Dan Krug, Denver Climbing Company
Golden, Colorado is known
for its collection of beautiful climbing areas, from the popular North Table Mountain to the more secluded Tiers of Zion. Tucked away in the foothills of the Rocky Mountains, Golden is close enough to Denver to give you access to its amenities while far enough away to help you get lost in the wilderness. Here are the top three areas for rock climbing in Golden:
Clear Creek Canyon
Clear Creek Canyon (CCC) is located west of Golden along Clear Creek.  It's one of the most popular climbing areas in Golden, known for its many accessible sports climbs such as the popular moderate multi-pitch "Playin' Hooky".  CCC also has a few trad and mixed climbs. Check out "Gneiss Roof" on Mission Wall for an airy and exciting 5.10 climb.
The rock here is pretty solid, with variations such as schist, gneiss, and sandy granite.  It's quite different from the gray granite rocks of Boulder, with a stunning uniqueness that really shows in the afternoon light.  CCC has plenty of routes for beginners and experts alike, as well as a few climbing options that are perfect for winter. Single and multi-pitch routes are abundant.
North Table Mountain
North Table Mountain, also known as Golden Cliffs, is a popular cliff band located above Golden.  The cliff band faces south and west, so it's a great choice for climbing in the winter.  Most of the routes are tightly bolted and within a short 60-foot range, so this is a great spot to get a lot of climbs done.
You can easily toprope the routes thanks to the bolts underneath the top of the cliffs and the easy access to the top.  The rock has become really polished in many places due to the rising popularity of this climbing area, but it's still an excellent choice for top roping and winter climbing.  The fast and easy access also makes it perfect for a quick climb in the late afternoon sun.
Tiers of Zion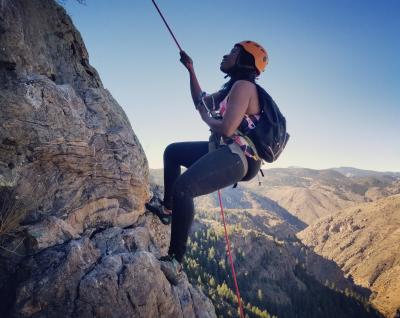 The Tiers are located high up on the northwest face of Mt. Zion, right past downtown Golden.  There's an Upper Tier and a Lower Tier, both known for their excellent rock quality and isolated, beautiful woods.  The Tiers feature expansive views to the west overlooking Clear Creek Canyon. 
Because the climbing faces northwest and starts in the trees, it's a much cooler and shadier climbing area than CCC.  This also means the area holds onto snow and rain much longer, so the climbing season starts a bit later than in other areas.  Still, it's the perfect place to climb during the heat of summer.
Rock Climbing In Golden
Denver Climbing Company offers outdoor rock climbing guiding and instruction.  Whether you're a beginner climber or you're looking for the full experience that these areas have to offer, Denver Climbing Company can help.  Visit denverclimbingcompany.com to learn more about rock climbing in Golden.