The whole world may be different on this Fourth of July 2020, but much of Golden, Colorado remains the same. There will be no fireworks or creek access within city limits this year, but for those looking for a small town atmosphere for picnics, ice cream, outdoor dining, beer gardens and natural beauty, look no farther than nearby Golden! You can skip the traffic on I-70, and still enjoy a mountain town ambiance. And with the Fourth falling on a Saturday, you can spread out your celebration all weekend long to make room for more social distancing. Bring your mask and pick one – or two or three! - of these fun ways to celebrate Independence Day in Golden:
EAT OUTDOORS UNDER THE ARCH Washington Street will be closed to traffic for the July 4th weekend, allowing the street to be turned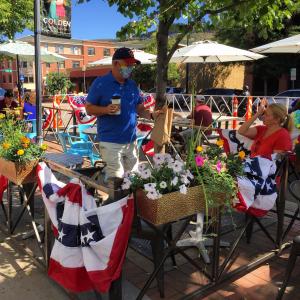 into one huge outdoor café for local restaurants. Enjoy famous Woody's Wood Fired Pizza, Cajun cuisine from the Trailhead or Sassafras, BBQ from Capitol Grille and buffalo burgers from the Buffalo Rose. Make sure to take a selfie under the famous 1947 street-wide sign that says, "Welcome to Golden." The Denver Post recently selected Golden as one of the great new dining destinations on the Front Range. See what all the buzz is about dining outdoors with mountain views.
TRAVEL BACK TO THE OLD WEST - Golden was the first capital of the Colorado Territory and the little town has preserved its Old West ambiance with Victorian buildings, covered sidewalks, and the Golden History Park, a wonderful 1800s farmstead museum right downtown. There will be blacksmithing demonstrations over the July 4th weekend where you can learn why it's best to "strike while the iron is hot." Bring some quarters and you can feed the heritage chickens at the historic chicken coop.  On July 4, from 5-6:30 p.m., take a Wild West History Walking Tour for $25 to learn about the cowboys, outlaws and other wild characters who have called Golden home.
TAKE A SCENIC DRIVE - You can get to Golden quickly from just about anywhere in Metro Denver by taking Colorado Hwy. 58 from I-70. But there are many other scenic ways to get to this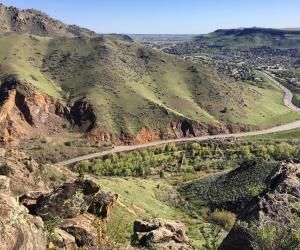 historic town. Continue West on I-70 to exit 254, where you can see Denver's buffalo herd, more than 40 buffalo in a wildly spectacular viewpoint. Then head back on Lookout Mountain Road, stopping at Buffalo Bill's Grave for the view, before curling down the Lariat Loop Trail. You can travel west on I-70 to the junction with Hwy. 6 and return to Golden down Clear Creek Canyon, stopping along the way at Mayhem Gulch, where there is a six mile paved trail that clings to rock cliffs as it snakes along the river. Or you can drive into Golden from the north along Hwy. 93, passing wonderful vistas of Flatirons. You are sure to marvel at "America the Beautiful" as you enjoy the views around Golden.
PICNIC IN A PARK  – Golden is home to 254 acres of parks with 5,000 acres of nearby publicly owned open space. Avoid the crowds by heading up Clear Creek Canyon for magnificent mountain vistas, and stop at one of the pull offs to sit by the river while you picnic in a meadow of cottonwoods and wildflowers. Grab your picnic lunch at D'Deli, the Cheese Ranch, Café 13 or get a to go lunch from any Golden restaurant before you head for the hills or park it in a Golden park.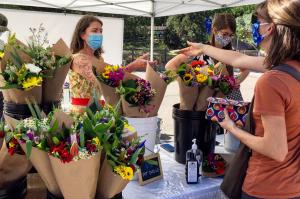 STOCK UP ON FRESH FRUIT, BREAD, IMPORTED CHEESES, AND OTHER DELIGHTS - The Golden Farmers Market runs every Saturday (including July 4th) from 8 a.m. to 1 p.m. in the lot next to the Golden Public Library with one entrance at 10th and Illinois. Face coverings are required while you stroll past widely separated booths overflowing with pastries, Palisade peaches, New Mexico green chile, bouquets of flowers, Wisconsin cheese, fresh watermelons and a variety of handicrafts. Surrounded by mountains and within hearing of fast rushing Clear Creek, it's a perfect farmer's market in the tradition of old European downtown markets.
RELAX IN A BEER GARDEN - Golden brews more beer than any other town on earth. There are eight, dog-friendly beer gardens in and around Golden where you can dine from food trucks while sipping a selection of award-winning beers. Golden City Brewery's beer garden is in the brewer's backyard and has now been expanded to the front yard as well! Mountain Toad has doubled their beer garden, while there's plenty of room for social distancing at Cannonball Creek, Over Yonder, New Terrain, Holidaily Brewing, Barrels & Bottles and Coda.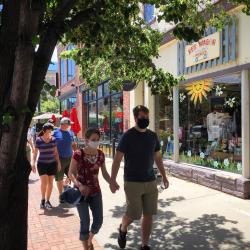 ENJOY AN ICE CREAM CONE & WALK MAIN ST. - Golden has always had a sweet tooth. The famous Jolly Rancher candies were invented here, and today downtown Golden is filled with ice cream and candy shops, pastries, frozen yogurt, cookies, and cafes bursting with brownies and baked goods. Golden Sweets is the vintage, old time ice cream and candy shop from days gone by, Goozell's offer amazing frozen yogurt and Windy Saddle has a wide selection of handmade pastries, cookies and coffees. Grab it to go and window shop Golden's cute main street, lined with art galleries, Native American trading posts, clothing boutiques, outdoors stores, and toy shops.
RIDE A TRAIN - The Colorado Railroad Museum is open and offering train rides over the Fourth of July Weekend. Ride aboard the legendary Galloping Goose No. 7 on July 2 and 5th, or in vintage railroad cars pulled by the Golden City & San Juan Diesel Engine No. 4 on July 4th. The Goose (a Pierce Arrow motorcar with a bus welded on the back) runs on Thursdays and Sundays and the diesel engine on Saturdays all July. There are indoor and outdoor model railroads and dozens of locomotives and cars to view and climb aboard. Masks are currently required to gain entry to the Museum, and advance purchase of admission and train ride tickets is highly recommended.
SEARCH FOR A DINOSAUR BONE - The nearby Dinosaur Ridge is open. On July 4, you can take a 2.5 hour walking tour with a scientist for $15 and learn about why there are so many dinosaur bones and tracks in the Golden area. The visitors center and Dinosaur Ridge Trail are also open with guided bus tours offered every 20 minutes (masks required). Or hike Triceratops Trail right in downtown Golden, and see dinosaur tracks and bones on this easy, 1.5 mile gravel travel.
Golden is a great place to visit all summer long. For more information, check out visitgolden.com. Please follow all recommended safety guidelines during your visit.