By: Dan Krug, owner of Denver Climbing Company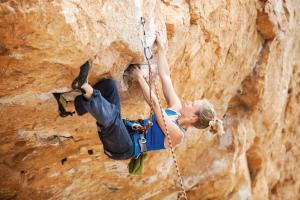 Rock climbing is continuing to explode in popularity. It's a sport that provides a full body and mental workout with a dash of added excitement. We can expect this growth trend to continue as the sport debut's in the Tokyo Olympics. Plus the pandemic has more people than ever looking for outdoor activities. And it's no secret that Golden has some of the best climbing areas around Denver, so we expect the number of climbers exploring the local areas like North Table Mountain and Clear Creek Canyon to continually grow.
I find it fantastic that so many people are joining the world of climbing. Everyone should be able to benefit from the therapeutic aspects of climbing just like I have. But with increased traffic comes increased impact on the local environment. Luckily there are solutions to help offset this! I've put together a list of ideas you can do to help minimize our impact and keep outdoor rock climbing sustainable into the future.
Always have a plan B for Location

If the parking lot is full, head to your backup location. Avoid parking on the local plant life.

Stay on the Designated Trails

Cutting through switchbacks also kills plants and leads to erosion that eventually needs to be fixed. Walking the designated trail does a lot to help keep our climbing areas nice.

Have a Plan for Waste

  This includes both trash and human excrement. Check out this article by Leave No Trace on proper waste disposal.

Learn the Local Etiquette for Fixed Hardware

Ropes damage fixed hardware over time. On the Front Range of Colorado, use the hardware to lower but add your own anchor system to top-rope. This small courtesy keeps our crags safer and preserves repair funding for other projects.

Find Ways to Give Back

If you climb around Golden, you've probably walked on a trail repaired by the Boulder Climbing Community. And you've probably hung from one of their bolt replacements. Although their name says "Boulder" their work extends further. They are actively planning upkeep projects in both Clear Creek Canyon and North Table Mountain this year. Consider donating to their cause either financially or by volunteering.
At Denver Climbing Company, we've made Stewardship our top priority. We've become one of the main supporters of the Boulder Climbing Community and are actively donating our time to help maintain the crags around Golden. Unlike an indoor climbing gym, our outdoor crags don't have cleaning crews. They don't have monthly membership fees to pay for the fixes. And also unlike a gym, most parts are not replaceable. So let's work together and leave these beautiful areas even better than when we arrived. I look forward to seeing you all around the Golden crags!