THERE MIGHT NOT BE A PARADE IN 2020, BUT EVERY DAY IS "BUFFALO BILL DAY" WHERE THE WEST LIVES!
Golden's most popular summer festival, Buffalo Bill Days, has been cancelled for 2020 due to COVID-19, but you can create your own self-paced Buffalo Bill celebration and enjoy a taste of Colorado's Wild West heritage all summer long in this pretty town along Clear Creek. Head to Golden for a fun, socially distanced, Western-themed visit. Be sure to visit these spots to recreate your own Buffalo Bill Days experience:
Buffalo Bill Days Pancake Breakfast -- One of the highlights of the traditional Buffalo Bill Days is the annual pancake breakfast at the Golden Fire Station. Start your day with a big stack of pancakes from one of Golden's popular breakfast spots, like Sassafras or the Golden Diner. Order them to go and picnic in Parfet Park or Lions Park, near the fire station.
Buffalo Bill's Grave & Museum -- After you've had your pancake fix, your next stop is the newly re-opened Buffalo Bill's Grave & Museum, located high above Golden, on top of Lookout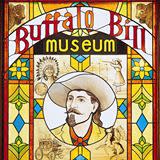 Mountain with spectacular views in all directions. Learn about the Old West's most famous scout and showman. His "Buffalo Bill's Wild West" toured from 1883 to 1913, performing in more than 1,000 cities in 12 nations with a cast of 640 cowboys, Indians, vaqueros and rough riders.  It took a special train of 52 box cars to move his show around the planet, which included transporting the third largest buffalo herd left on earth.
Kings, queens and presidents attended his shows and it is estimated that more than 25 million words were written about Buffalo Bill during his lifetime, making his silver goatee, buckskin jacket and wide Stetson hat more recognizable and famous than anyone in the world. When he died in 1917 while visiting his sister in Denver, his body was put on view in the state capitol and his funeral was (and still is!) the largest ever held in Colorado.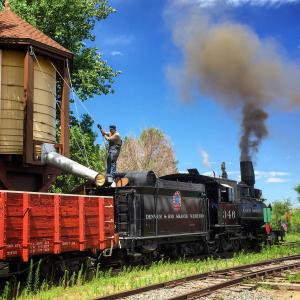 Colorado Railroad Museum -- Afterwards, head down the Clear Creek Valley and visit the popular Colorado Railroad Museum with its historic locomotives, indoor and outdoor model railroads, and train rides on the weekend. It was the railroads that "won the West," and you'll enjoy checking out the state's largest collection of steam locomotives and cars. Depending on when you visit, you may be able to take a spin around the museum's ground on an historic train.
Golden History Museum & Park -- Next, park at the Golden Visitor Center and walk along Clear Creek to the Golden History Museum, which has exhibits on the town's history and the Gold Rush that brought 100,000 men and women across the Great Plains in just two years in the hopes of striking it rich.  Walk across the creek, to the Golden History Park for a look at a 19th century homestead with blacksmith demonstrations and the opportunity to feed chickens at the hen house. There's even a one-room schoolhouse and heritage gardens.
Browse Golden for Wild West Art, Antiques & Collectibles  -- Buffalo Bill Days always featured a lively marketplace with Western wear, art and collectibles. All year long, you can find Western themed collectibles – and more – in the mostly locally owned stores in downtown Golden. Don't miss The Silver Horse or Spirits in the Wind, two must-see Western themed stores.
Dine in Historic Downtown Golden -- Pretend you're in an Old West saloon with a stop at the Old Capitol Grille & Smokehouse in a building constructed in 1863 that was once the first Capitol building of the Colorado Territory. Or enjoy a buffalo burger lunch at the outdoor café of the Buffalo Rose, part of a historic block that was once a hotel with famous guests such as Ulysses S. Grant.
Take a History Tour -- After lunch, take a self-guided historic walking tour of Golden - you can follow on your phone, or you can even sign up for guided tours to learn about the gunslingers and ghosts of old Golden.  If you're interested in the Old West, you will find it in this historic little town, surrounded by mountains and buttes.
Enjoy an Ice Cream Cone or Sweet Treat -- What's a summer festival without a sweet treat? Fortunately, you can get your sweet fix at Golden Sweets, Goozell Yogurt, Gold Mine Cupcakes or Amore Gelato and Kona Bowls in Tributary Food Hall.
End Your Tour with a Beer in Golden -- Enjoy a beer at a Golden saloon or craft brewery. There are plenty of great bars and restaurants where you can enjoy a drink along Washington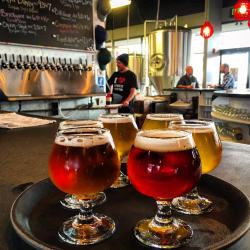 Avenue, or you can visit one of the eight craft breweries, many with outdoor, dog friendly beer gardens. Wherever you go, raise a glass to Golden's Old West heritage and let's all hope that next year, festivals will be "back to normal." 
As Buffalo Bill certainly knew as a world famous performer --"the show must go on!" – so visit Golden and make the best of things with a self-paced Buffalo Bill Days experience! For more ideas on what to do in Golden, check out visitgolden.com.