What's a Colorado summer without a concert at Red Rocks? Due to the coronavirus, many of us are finding out. But just because your favorite artist postponed or cancelled their Red Rocks show doesn't mean you can't take in the splendor of North America's No. 1 outdoor concert venue.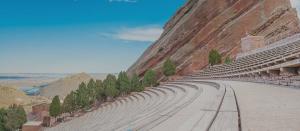 Get your Red Rocks fix this summer or fall with a hike, run, visit, fitness class, or a socially distanced concert or event, like the upcoming Colorado Symphony performances or Yoga on the Rocks. The park offers several amazing hiking trails that wind through, up and over the 200 million year old rocks with great interpretation of the geological history found here.  The Trading Post sells merchandise and the venue – even without a performance – is a wonder to behold. Check out the upcoming events, park hours and more here.
Add in a visit to Golden, and your "concert consolation prize" is sure to be filled with fun. Golden is filled with fabulous restaurants perfect for a post work out brunch or coffee or a pre-concert bite and beer. Only two miles from Red Rocks, Golden's Gateway shopping area is home to: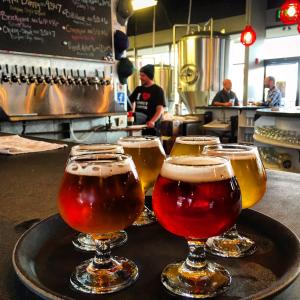 Vice Kitchen +Wine + Whiskey offers phenomenal drinks and dining close to Red Rocks. Favorites include elk medallions, salmon ceviche and bountiful charcuterie and cheese boards. 
Launch Espresso, Food & Spirits where you can get amazing grab and go options perfect for a picnic or meet with friends for a post-hike meal and drinks.
Over Yonder Brewing Company is the closest craft brewery to Red Rocks and offers a wide variety of delicious Colorado craft beer.
The Origin Red Rocks Hotel & Nomad Taqueria, why not make a night of it at the official hotel of Red Rocks?
You can also head to downtown Golden to add a creek walk, shopping and a wide array of dining and nightlife options. You'll find craft beer at Golden City Brewery, Mountain Toad and Barrels & Bottles, all downtown within easy walking distance of each other and an easy 15 minute drive to or from Red Rocks. For gluten free Red Rocks patrons, don't miss Holidaily, which offers award-winning gluten free beer and a perfect start to your outing.
And if you want to make a night of it, stay in one of Golden's downtown hotels, the Golden Hotel, Table Mountain Inn or Dove Inn. 
For more info on Golden, follow @VisitGoldenCO on Facebook, Instagram, Twitter and sign up for our quarterly email newsletter here.