For 60 years, the Colorado Railroad Museum has offered visitors the opportunity to experience the thrill of railroading and learn about its important role in Colorado history. Many generations of rail enthusiasts, young and old, have visited the 15-acre rail yard in Golden, making it one of the top attractions in the Denver Metro area.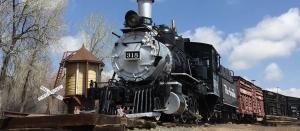 To celebrate its 60th Anniversary on July 13-14, the museum will stage something that has only been done once before:  a parade of locomotives.  Engines 346 and 491 will be bellowing steam and blowing whistles as they circle the museum's half-mile circle of track.  The museum has more than 100 locomotives, diesels and cars that will be on display.  There will be train rides every half hour from 10 a.m. to 4 p.m. on both Sat. July 13 and Sun. July 14, as well as Roundhouse Tours. All model railroads will also be up and running for this special, one-of-a-kind event.  
If you love trains, check out the VIP tickets, which include a cocktail reception on Thursday July 12 and a banquet dinner on July 14. 
For more information, https://coloradorailroadmuseum.org/60th/