Just 14 Miles from Downtown Denver, I-70 Exit 259 Offers Hiking Trails, Breweries, Distilleries, Scenic Drives and Old West History –
All in a Mountain Setting Around the Town of Golden, Colorado...
While thousands of Denverites set out to the mountains on I-70 every summer weekend, much of what they are looking for can be found just 14 miles west of downtown at I-70 Exit 259, the exit that leads to Golden, Colorado.
Within 15 minutes of Exit 259 there are multiple hiking trails, three mountains to be climbed, Red Rocks Amphitheatre, six craft brewery beer g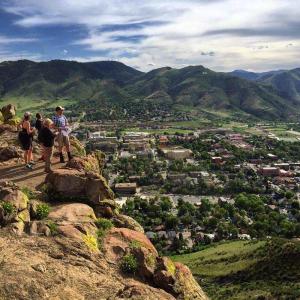 ardens, the world's largest brewery, miles of biking trails, scenic river walks, museums, a world class nature center, historic farm homesteads, scenic mountain drives with enough drop-offs to thrill any visiting flatlanders, restaurants, food markets, live music, coffee shops and distilleries. So why spend time in a car when you can spend that time outdoors having fun?
Here's what can found near Exit 259 on I-70.
Exit 259 is loaded with hikes.  Across the road is Mathews Winters Park, which has trails that curl down Dakota Ridge (where the first dinosaur bones were discovered) or climb through huge red sandstone rocks heading south to Red Rocks Amphitheatre & Park. Besides being the site of the famous concert venue, Red Rocks has three spectacular trails.  Try the new 1.4 mile long Geological Overlook Trail, which is steep but offers rewarding views of the valley.  Exit 259 is only a mile from Apex Park, which is filled with trails leading to viewpoints for both hikers and mountain bikers.  Near the exit are also three trailheads leading to the tops of three mountains:  South Table Mountain, North Table Mountain and Mount Galbraith.  You can also hike to the top of Lookout Mountain on the Chimney Gulch Trail, which leaves practically from downtown Golden. Also at Exit 259?  Golden's newest brewery, Over Yonder, with a wonderful outdoor deck looking towards the mountains and a half dozen refreshing craft beers on tap.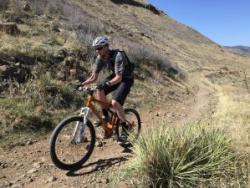 There are two huge free RTD parking lots at Exit 259, so it's the perfect place to stash the car, take off the bikes and head out onto the surrounding trails.  Apex Trail is an iconic mountain bike ride, and the climb up Lookout Mountain is one of the most famous road bike rides in Colorado.  Both are accessible from exit 259, as are trails throughout Mathew Winters and Red Rocks.  Don't have a bike?  No worries.  It's a short drive to downtown Golden and the free Golden Bike Library, where at the Visitor Center along Clear Creek and Washington Ave. you can check out a free bike and ride along the Clear Creek Trail.  Or pedal down the Victorian backstreets of the historic town of Golden and stop for pint at the Golden City Brewery, where you are literally in the brewer's backyard!  You can purchase the beers at the brewer's carriage house, select a picnic table, and listen to some live music.
For a small town, Golden offers a large selection of dining options.  Right at Exit 259, you can enjoy Nomad Taqueria and Beer Garden at the Origin Hotel, gourmet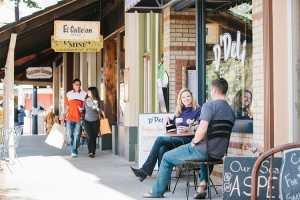 coffee and bites at Launch or the newly opened Vice for wine, whiskey and delicious food. In downtown Golden, you can dine in Colorado's first capitol building at the Old Capitol Grill & Smokehouse or in a re-creation of a Sherpa's farmhouse from Nepal at the Sherpa House Restaurant and Cultural Center.  The Buffalo Rose has just re-opened in an historic building where Generals Grant and Sherman once stayed and offers live music, huge open windows, and a picturesque atrium.  There's creekside dining at the Golden Hotel's Bridgewater Grill and Sassafras, and some of Denver Metro's best fine dining at Abejas.  Woody's Pizza and D'Deli are Front Range legends for pizza and sandwiches, while the Table Mountain Inn across the street has tasty treats of the Southwest.   And the newest addition is Tributary Food Hall & Drinkery with nine food stalls and bars right in downtown.
HISTORIC SITES
Buffalo Bill Cody, the most famous scout and showman of the Old West, is buried not far from Exit 259.  You can reach his grave and a museum about his exciting life by taking thrilling road to it – the Lariat Loop Trail, which begins near downtown Golden and curls and snakes its way for 4.5 miles to the summit of Lookout Mountain.  Here you'll find gorgeous views of snowcapped peaks in one direction, and pretty Clear Creek Valley and the town of Golden in the other. Golden was the original capital of the Colorado Territory and it still maintains a history feeling with dozens of hundred-year-old-buildings. Right along the banks of Clear Creek is a historic farmstead with a barn, farmhouse and other buildings.  Bring some quarters and you can feed the exotic chickens.  The Colorado Railroad Museum has the largest collection of real trains and model trains in the state, and operates live steam locomotives on a half mile circle of track – like a giant's toy train set.  Right downtown, the Mountaineering Museum is the only one like it in America and historic mountain climbing artifacts, like the clothes worn by the first Americans to summit Mount Everest.
BREWERIES & DISTILLERIES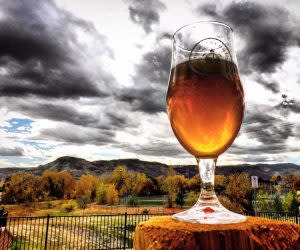 Exit 259 is the entranceway to the biggest little beer town in the world.  Golden produces more beer than anywhere else on the planet, thanks to Coors brewery.  Coloradoans can tour Coors for $5 (out of state visitors are $10) which gets you a flight of three different beers and a souvenir glass.  Golden's six other craft breweries offer outdoor beer gardens, tasty flights of craft beer, food trucks, and scenic views in a dog-friendly environment.  Golden is also home to several award winning distilleries. Sample spirits at Golden Moon or State 38.
FOR MORE INFORMATION:
VisitGolden.com is your go-to online resource for everything about Golden. Or stop into the Golden Visitor Center at 1010 Washington Ave. in downtown Golden.