A Perfect Day in Golden with Donald Tallman, Executive Director of the Colorado Railroad Museum
"If you're looking for a train buff, you've got the wrong guy," said Donald Tallman in October 2006 while interviewing for the executive director position of the Colorado Railroad Museum.  He was honest. Other than a few AMTRAK rides, Donald had never been on a train.
Fortunately, the museum board had something else in mind. They wanted a leader. Fast forward a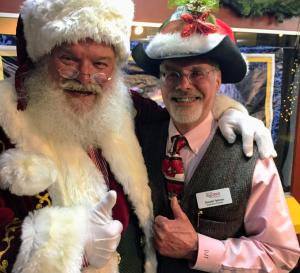 dozen years, and with Donald Tallman at the throttle, the railroad museum is doing better than ever. The museum has doubled its attendance, increased its budget by 70% and has remained on the top 10 list of paid attractions in Metro Denver for the past decade.  From building new tracks and restoring engines 346 and 491, to introducing the wildly successful Polar Express, Donald has transformed the museum into one of Golden's most popular year-round attractions. Along the way, he also became Colorado's leading rail buff. In April, he will be inducted into the Jefferson County Hall of Fame.
Donald's perfect day in Golden begins by getting up early and arriving at the gym. On a perfect day, he'll afterwards stop by the Bridgewater Grill for a breakfast of their Angus corn beef hash. Then it's off to the railroad museum, where's he often the first to arrive and last to leave.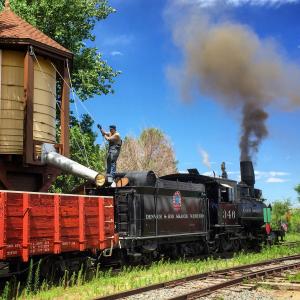 Donald's office on the museum grounds is of his own design. It's a separate Tuff Shed that's been converted into a cozy 19th century rail office with roll-top desk, hand-tinted William Henry Jackson historic railroad prints, and a 6-foot long, 500-pound model steam locomotive. Everything in the office, except his phone and computer, is from the 19th century. Donald loves walking the grounds of the museum and watching the sun come up. He's seen bobcats, coyotes and deer strolling between the steam engines and railroad cars.
For lunch, he loves the wood-fired pulled-pork sandwich at Woody's Pizza, which is tender pork shoulder slowly roasted for 8 hours in a wood stove, then served on a toasted bun with Woody's own Colorado whiskey BBQ sauce, crispy fried onions, pickle and slaw. He loves to walk that off with a stroll down Washington Ave. window shopping and stopping in favorite shops like Spirits in the Wind to see what's new in Southwestern art.
Back at the museum, it's a constant job to manage the staff and 300 volunteers who keep two historic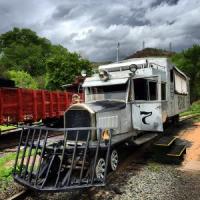 steam engines and three "Galloping Geese," the legendary old motorcars placed on tracks, all in running order. During Polar Express, the museum runs a steam locomotive for three shows a day, for 31 days, and Donald is there for all of it.
A big fan of craft beer, on his perfect day in Golden, Donald will stop by Barrels & Bottles at happy hour to say hi to owners Zack and Abbey and sample a "Big Lebowski," their famous 10% alcohol beer.  Then its off to meet his wife Robin for dinner of braised beef pot roast simmered with Chimayó chile peppers, served on goat cheese polenta with veggies at the Table Mountain Grill & Cantina. Donald and Robin love the Table Mountain Inn and will frequently stay for a weekend of hiking at nearby Lookout Mountain Nature Center or on the Apex Trail, then enjoying the delights of downtown Golden. "I love being in the center of town," he says.  "I like the funky fun vibe, the shops, and the nice demographic cross-section that Golden attracts. It's where we take out of town guests to have that authentic "Old West" experience that's still close to Denver."