As we all do our part to stay-at-home, let your mind wander back to "golden" days in Golden, Colorado and dream of what you are going to do in Golden once we can all go out again. Here are five wonderful "only in Golden" adventures to get you started. 
What do you miss the most about Golden?
Walking along the Clear Creek Trail.  It's been called the best walk on the Front Range.  Under the shade of huge cottonwoods, the 1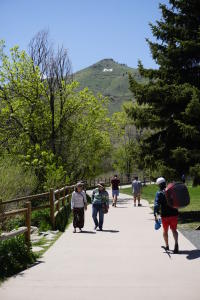 0-foot-wide concrete trail meanders besides fast rushing Clear Creek all the way from historic downtown Golden up into the mouth of Clear Creek Canyon.  Exciting additions to this walk are underway with a new 1.5-mile long addition, as well as the new Welch Ditch and Flume Trails, that will open higher up on the south ridge, offering all new views of the valley.  Ultimately, they will all be part of the Peaks to Plains Trail that will stretch for 65 miles from Denver to Loveland Pass, crossing four counties and connecting seven towns and cities while gaining one mile in elevation.  Now there's something to look forward to!
Dining in one of Golden's fabulous restaurants.  It seems like just a couple of months ago that the Denver Post named Golden one of the hottest food destinations on the Front Range.  In fact, it was just a few months ago! Soon, you can once again enjoy world class dining in a small town atmosphere, with free parking on weekends and after 5 p.m.  There's even more good news!  You can still order takeout from more than 50 restaurants in Golden through Takeout Takeover Golden.  All your old favorites are here – famous D'Deli sandwiches, Woody's Wood Fired Pizza, Bob's Atomic Burgers, gyros and Mediterranean dishes from Ali Baba Grille, nan bread and tasty treats from Nepal and India at the Sherpa House… as well as delights from the newly reopened Buffalo Rose, the new Tributary Food Hall & Drinkery and Xicamiti la Taqueria Bistro.
You don't have to wait to find out why Golden has become such a destination for foodies – you can still pick up and go!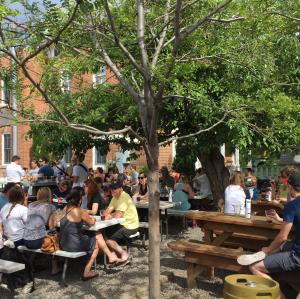 Hiking, biking and driving to the views of the mesas and mountains in pretty Clear Creek Valley. Golden lies in an area of spectacular natural beauty.  Just 12 miles from Denver, it is a world away in scenery, surrounded to the east by the high volcanic mesas of North and South Table Mountains and to the west by a chain of mountains including Lookout, Zion and Galbraith.  You can hike up all of them, drive or bike up Lookout and Zion, and bike around North Table Mountain on what Westword says is "the best mountain bike ride in metro Denver." 
Relaxing in the beer gardens.  Golden is home to the planet's largest single brewing site at Coors Brewery and seven wonderful craft breweries, some with dog-friendly patios. Golden is the place to sip a brew and enjoy the view. And let's not forget two distilleries, a slew of tap houses, riverside cafes, and great live music venues like the Buffalo Rose – all just a short drive from downtown Denver. Bring a taste of Golden home by picking up a growler or bottle to go!
Just being outdoors.  The people of Golden live outdoors.  Golden's main street – Washington Ave. – is lined with one-of-a-kind shops, outdoor cafes, public art, parks, a river, and historic buildings.  You can take a self-guided walking tour of the public art, or another self-guided tour of historic buildings.  Be sure to listen carefully, because when this is over, you'll often hear the sound of a steam locomotive whistle echoing down the valley from the nearby Colorado Railroad Museum.  Lookup and watch hang gliders float down from the sky, while kayakers paddle up Clear Creek. It's that type of town.  And did we mention it's just 12 miles from Denver with lots of free parking? 
It's okay to dream right now. Start planning your dream "golden" vacation by downloading the Golden Official Visitors Guide. What do you miss the most about Golden?  And what are you going to do in Golden the first chance you get?