Celebrate the Season with Golden's Candlelight Walk, Holiday Parade, Holiday Lights, Elves, Festive Art, the Polar Express & More!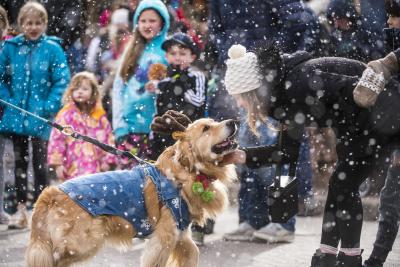 The magic of holiday traditions in Golden returns in 2022 to offer the warmth and joy of a small Colorado town in the holiday season. 
Golden's beloved Candlelight Walk took place on Dec. 2 with holiday revelers strolling Washington Ave. at 6:30 p.m., holding candles and singing carols, even stopping for warm cider and hot chocolate along the way. Golden's Holiday Parade returns at 10:30 a.m. on Dec. 10 with marching bands, floats, horses, Victorian carolers, antique cars, elves, Buffalo Bill, the Grinch, fire trucks, and, of course, Santa, waving merrily. 
Shopping along Washington Avenue, Golden's festively decorated main street, offers a true Colorado experience with mostly locally owned stores, including shops specializing in fly fishing, rock climbing, biking, skiing & snowboarding, camping and backpacking, as well as art galleries, jewelry stores, and fashion boutiques. The extremely popular Holiday Art Market at Foothills Art Center returns with a variety of artisan holiday art gifts, all created by 100 local Colorado artists. 
More than 45,000 holiday lights will illuminate Golden's downtown as well as the trees, bridges and walkways along Clear Creek, while nearby, the Colorado Railroad Museum will be lit by the headlamp of an authentic steam locomotive, as the Polar Express once again steams through the night, bringing kids and Santa to the North Pole. 
Golden's Holiday Happenings Include: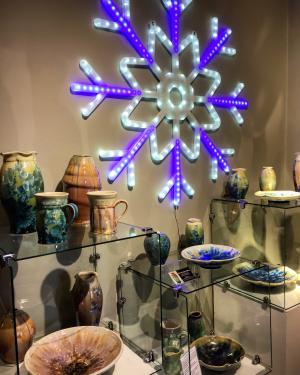 HOLIDAY ART MARKET AT FOOTHILLS ART CENTER – Open Nov. 19-Dec. 29, 2022, 10 a.m. - 5 p.m. on Mon.-Sat., noon-5 on Sundays.
HART (The Holiday Art Market) is a cool shopping destination for one-of-a-kind artisan gifts. The entire historic Gothic Church and manse is filled with works from more than 100 local Colorado artists, offering the highest craftsmanship in fine ceramics, fiber, glasswork jewelry, paintings, woodworking, photography and special holiday items. HART is open seven days a week, Nov. 19 to Dec. 29, 2022 (closed Dec. 25 and 26) with free admission.
MIRACLE AT THE EDDY - Nov. 23 - Dec. 30, 2022
For the first time ever Miracle, the holiday pop-up bar, is coming to Golden at The Eddy Taproom & Hotel and will offer a holiday oasis with over the top kitschy, festive décor and a themed cocktail menu with fan favorites such as Christmapolitan, Christmas Carol Barrel, Snowball Old-Fashioned, Jingle Balls Nog, Nice Shot, and Naughty Shot. New this year is the Santa
Little Helper, Christmas Cricket, Holiday Spiked Chai, and Grandma Got Run Over By A T-Rex cocktails. The venue is also offering tasty treats from The Taproom menu as well as outdoor igloo dining experiences. Reservations for Miracle at The Eddy are required and can be made
at theeddygolden.com.
A CHRISTMAS STORY AT MINERS ALLEY PLAYHOUSE - Nov. 25 - Dec. 23, 2022, Thursday, Friday, Saturday and Sundays
All the elements from the beloved motion picture are here, including the family's temperamental exploding furnace; Scut Farkas, the school bully; the boys' experiment with a wet tongue on a cold lamppost; the Little Orphan Annie decoder pin; Ralphie's father winning a lamp shaped like a woman's leg in a net stocking; Ralphie's fantasy scenarios and more. A Christmas Story is destined to become a theatrical holiday perennial. Come enjoy this holiday favorite, live! Ticket info.
HOLIDAY LIGHT DISPLAY - Dec. 2, 2022 through Feb. 15, 2023
It is the 100 year anniversary of Golden's impressive holiday lighting display! It transforms the charming town into a winter wonderland with 45,000 glowing bulbs decorating downtown, the pretty walking path and bridges along Clear Creek, Golden History Park, Parfet Park and the Visitors Center. Bundle up, pick up a hot cocoa at a Golden coffee shop, and enjoy an evening walk along the creek under a cascade of twinkling lights. It's so romantic, by popular demand, the lights stay up until Valentine's Day. 
THE SEASON OF LIGHTS STORYBOARD WALK - Dec. 1, 2022 through Jan. 1, 2023
Stroll through Golden and discover different displays celebrating and highlighting holiday traditions from around the world. 
GOLDEN HAYRIDES WITH SANTA - Dec. 10, 11:30 a.m. – 1:30 p.m. departing from Gold Mine Cupcakes; Dec. 18, 2 p.m. – 4 p.m. departing from Gold Mine Cupcakes; Dec. 19, 12 p.m. - 2 p.m. departing from The Golden Mill.
Jump on board the Golden Haywagon and join jolly St. Nick on a spin through Golden, singing carols along the way! More info: https://www.facebook.com/goldenhayride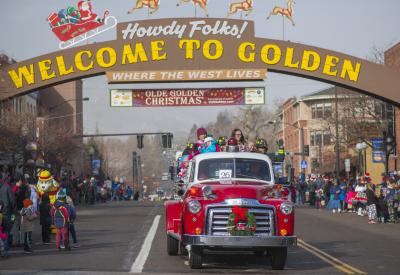 OLDE GOLDEN HOLIDAY PARADE - Dec. 10, 2022, 10:30 a.m. 
The parade returns in 2022 for one spectacular day with all the favorites including elves, marching bands, floats, Victorian carolers, antique cars, the Grinch, Buffalo Bill and, of course, Santa. The parade route runs down Washington Ave. from 10th St. to 13th St. starting at 10:30 a.m. After the parade, grab lunch at one of the many restaurants lining Washington Ave., or shop the galleries, boutiques and stores of colorful historic downtown Golden. 
LETTERS TO SANTA - Nov. 26 – Dec. 17, 2022 
Drop your letters to Santa in the festive mailbox at the Golden Visitors Information Center. Leave a return address and the jolly fellow will even write back! 
THE POLAR EXPRESS AT THE COLORADO RAILROAD MUSEUM - Mid-Nov. to Dec. 23, 2022
The Polar Express returns in 2022 with all the magic of a genuine huffing and puffing steam locomotive pulling up to the station, bells ringing and whistles blowing, to take passengers on an exciting trip to the North Pole. Ticket sales began in October and can sell out quickly, so check their website.
HOMESTEAD FOR THE HOLIDAYS - Dec. 17, 2-5 p.m.
Celebrate the holidays the pioneer way at the Golden History Park. This family event allows you to stroll through the Golden History Park, take in the colorful lights, try a craft, duck in the farm house and old school and bask in the season. It's time to go home(stead) for the holidays!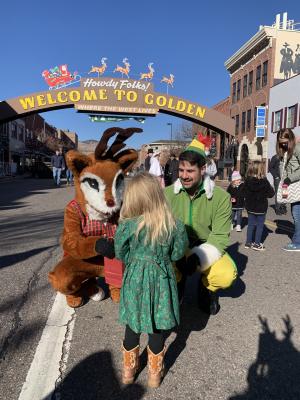 JINGLE ON THE AVENUE, A HOLIDAY CHARACTER MINGLE - Dec. 17, 11 a.m. – 1 p.m.
Spend a magical day in Golden meeting and mingling with family favorite holiday characters along Washington Ave. Your little ones are sure to be delighted and there will be plenty of photo opportunities, live music, Newfoundland dog cart rides and lots of festive holiday fun for the whole family. 
NEWFOUNDLAND DOG PULLED CART RIDES – Dec. 17, 11 a.m. – 1 p.m. – During Jingle on the Avenue
There will be FREE rides for kids. Adorable Newfoundland dogs pull these festive carts for a fun and furry ride, sure to delight the kids and make for a perfect holiday photo op.
FOLLOW A TAP TRAIL THROUGH THE BIGGEST LITTLE BEER TOWN IN THE WORLD!
Golden brews more beer than any other town in the world and has eight award-winning craft breweries, distilleries and plenty of outdoor dining and drinking opportunities to help you ring in the holiday. Golden's Tap Trail is a mobile passport offering deals and prizes when you download the free passport and take part in Golden's legendary bar and brewery scene.
View the full list of Golden's holiday events.