Nestled between North and South Table Mountains and in the shadow of Mount Zion, Golden offers views in every direction. With a charming, historic downtown, and a friendly, Western vibe,
a patio in Golden is a great place to dine al fresco and enjoy the Rocky Mountain atmosphere.
To encourage social distancing, this year you'll find more Golden patios than ever before. Located only a short drive f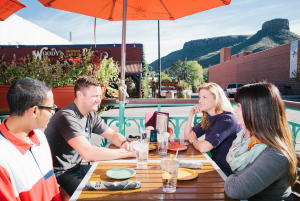 rom Denver, plan a date night or schedule a socially distanced lunch with a pal in Golden. The city boasts a "patio for every mood and taste."  Here are a few you should check out soon:
Date Night Ambiance: Schedule a Golden getaway for your next date night. Here are a few spots perfect for a fun and romantic night out:
Family Fun: Golden's a great place for families and dining on a patio at one of these local faves is sure to please the whole gang: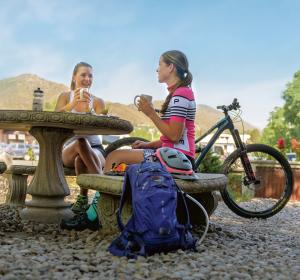 Get to Work: Remote workers can get their caffeine fix, working breakfasts and lunches and WiFi at these Golden coffee shops:
Primo People Watching:
Although most any downtown patio will offer people watching. Here are a few fun options:
Happy Hour Patios: Raise a glass in Golden on one of these lively patios. Most also offer fantastic nibbles to enjoy.
Beer Gardens: Golden is the biggest little beer town in America, producing more beer than any other single town. While most beer is produced at the world's largest single site brewery, Coors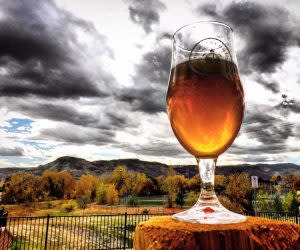 Brewery, Golden is also home to eight excellent, award winning craft breweries with patios that usually feature food trucks, including:
Ethnic Eats: Golden is home to many awesome spots serving ethnic style cuisine on patios, including:
Creekside Ambiance: Clear Creek is one of Golden's most popular attractions and you can dine on a patio near the creek when you check out:
For a complete list of outdoor dining options, visit https://www.visitgolden.com/things-to-do/dining/outdoor-dining/