There's no better place to celebrate "Colorado Pint Day" than Golden, Colorado – the biggest little beer town in the world, where more beer is brewed than any other place on the planet.  And why not celebrate by having a beer with a Golden theme in this great Colorado town?  Here's some choices: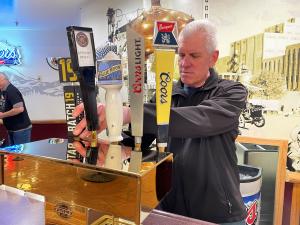 AC Golden (named after Adolph Coors and the town where he founded his brewery in 1873) is a small batch brewery located in the world's largest brewery, Coors.  All of their beers are made with only Colorado ingredients and include an IPA, Amber, Pils and Helles among others. While you're at it be sure to make a reservation for the Coors Brewery hospitality lounge where you can try three samples from the Coors family of brands. 
At the Golden City Brewery, you enjoy beer in the brewer's backyard, just a stone's throw from Clear Creek.  So of course, as you listen to music in the garden-like setting, try the Clear Creek Kolsch, which features 100 percent Colorado grown malt.
All of Golden sits in the shadow of Mount Zion (the peak with the big "M" on it for the Colorado School of Mines).  So why not stop by Mountain Toad Brewery and try their flagship Mount Zion IPA, which has a West Coast hop profile of Centennial, Cascade, Simcoe, and Amarillo hops with strong citrus and stone fruit flavors.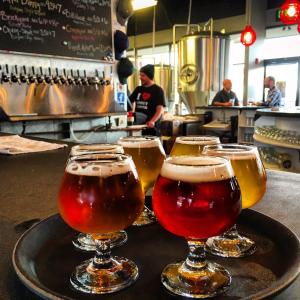 The original name for Clear Creek was Cannonball Creek, because of the large round rocks in the river. So visit award-winning Cannonball Creek Brewery and try their Brickyard Porter, named after the brickyards that were once in Golden making bricks out of soft yellow sandstone that was quarried here.  The dark ale is full bodied with hints of toffee and chocolate.
Camp George West was an historic military camp in Golden for the Colorado National Guard, and now it's honored with a beer, Camp George Brown, available at both Barrels & Bottles in downtown Golden and also at their brewery site, appropriately named what else? Camp George West!  Both locations have 20 beers on tap and also feature tap wine and delicious food.
Holidaily Brewing makes rare gluten-free beer, so it's appropriate they have a Beulah Red Ale, a beer named after one of the rarest of all rocks – a red marble that was found only in Beulah, CO.  The entire world's supply of this rock was used on the walls in the Colorado State Capitol.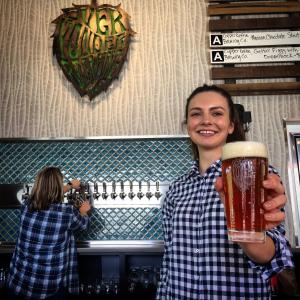 With a view overlooking Apex Mountain and its wonderful hiking and biking trails, the Over Yonder Brewing Co. has a stage that's often filled with live music, making it the perfect place for a brew before a concert at nearby Red Rocks.  The beer of choice?  How about Apex in the Clouds?  The easy drinking and crushable Hazy IPA is brewed with Nelson Sauvin, Mosaic, and El Dorado hops and wheat malt.
Finally, if you've tried all these, then you might be a little bit lost.  So it's perfect to end your Golden tastings at the New Terrain Brewery, high on North Table Mountain above the Colorado Railroad Museum.  Listen carefully and you might hear a train whistle echo down Clear Creek Valley as you sip the very appropriately named, Lost – a fruity and dank Colorado IPA.  Cheers!