Don't miss the Golden Sidewalk Sale on September 10, 2022, from 10 a.m. to 5 p.m. in beautiful downtown Golden. There's retail therapy and then there's SALE retail therapy! You're sure to feel refreshed after a day of shopping this great community-wide sale. The atmosphere is just right with free 2-hour parking, a pedestrian-friendly downtown, smiling small-business owners and outdoor patio dining.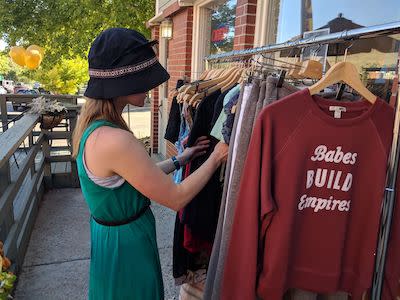 And did we mention the fun? You'll also enjoy entertainment including a mobile bubble tower and kids activity kits (while supplies last), making the Golden Sidewalk Sale perfect for a little free family amusement.
The sale is citywide, so be sure to visit the hidden gems near Golden Ridge Rd., South Golden Rd., and North Golden or roam Washington Avenue and stroll up and down the side streets looking for shops sporting balloons signaling a sale. You can pick-up a full list of participating businesses at the Golden Visitors Center. 
You don't have to "shop til' you drop" at this event as there are plenty of tasty bars or restaurants located throughout Golden who are also participating. Take a break before you tire and enjoy lunch at your favorite Golden restaurant or a post-shopping drink on a patio!
Shopping locally strengthens our community, supports jobs, is better for the environment and positively impacts our merchants' livelihoods. So come out on September 10th and celebrate our locally-owned Golden stores – who sell everything from technical outdoor gear to fine art. It's also a great way to get a jump on your holiday shopping and pick up some bargains! Your day in the sun can have such a positive impact - both on you and the Golden community.