Here's what's happening in Golden in Autumn. What a great time for a day trip, weeknight escape or staycation in nearby Golden. Check out one of our fun festivals or just come for a hike and happy hour or brunch and a walk along the creek. 
Wanderfest Weekend at New Terrain Brewery, September 15, 16 and 17
New Terrain Brewing is celebrating their 6th anniversary with an amazing weekend of new beer releases and live music in their outdoor beer garden. Featured bands/artists include Uptown Toodeloo, Wake Up & Live, Tyler Grant & Friends, Liver Down the River, Super Magick and more. Enjoy food trucks, ice cream and a kids craft station making it a great event for the whole family.
Golden Farmers Market - Saturdays through October 8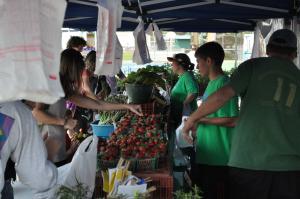 The Golden Farmers Market runs through October 8, 2022 and fall is one of the best times in Colorado to shop for local produce and flowers.
Miners Alley Playhouse Presents the Rock & Roll Musical, HAIR, runs through October 2
The American tribal love rock musical HAIR celebrates the sixties counterculture in all its barefoot, long-haired, bell-bottomed, beaded, and fringed glory. To an infectiously energetic rock beat, the show wows audiences with songs like "Aquarius," "Good Morning, Starshine," "Hair," "I Got Life," and "Let The Sun Shine In." Exploring ideas of identity, community, global responsibility, and peace, HAIR remains relevant as ever as it examines what it means to be a young person in a changing world (Rated R for Adult Content and brief nudity). There are plenty of great restaurants within a block or two from the venue so plan for dinner and a show and just an all around fun night out in Golden. 
Tour Golden by Foot, Haywagon, e-Bike and More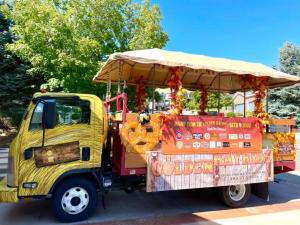 There are so many ways to check out Golden in the fall. Golden History Tours offers a variety of guided walking tours – even Haunted Ghost Tours in the fall – where you'll hear amazing stories of Golden's storied past. If you're more focused on getting to know Golden's bar scene, Golden History Tours offers a Wild West Pub Crawl or you can reserve a spot with the Golden Hayride and ride along in a haywagon as you check out the beer scene. Rides start on September 17 and run about once a week – book ahead on their website. Or, tour on your own, with the self-paced History Tour and Public Art Tour or Itty Bitty Art Tour of Golden or check out an e-Bike from Adventure West or Golden Goods and pedal (or pedal-assist!) your way through town. 
Colorado Mountain Fest, September 23 & 24
The Colorado Mountain Club takes over the American Mountaineering Center in Golden for Colorado's premier mountain festival featuring a fun-filled, family-friendly weekend of multi-sport adventuring, educational programming and celebration of all things Mountain! The festival will feature a variety of clinics, competitions, gear demos, swag, entertainment and local food and libations.
Wild West Oktoberfest, September 24
You won't want to miss the inaugural Wild West Oktoberfest happening in historic downtown Golden on Saturday, Sept. 24 from 11 am to 6 pm. Featuring music and activities throughout the day, with mechanical bull riding, stein-holding competitions, a cowboy dunk tank, and a costume contest, with prizes to be awarded all day! Beer provided by AC Golden Brewing Co. More info HERE.
Beer Tasting + Chili Cook-Off, October 1
Spice up your fall with the Golden Chamber's beloved annual autumn salute to chili and beer. The event will be held in Parfet Park at 10th and Washington. More info at Goldenbeerchilicookoff.org
Autumn Fest, October 2
The Golden History Museum (923 10th St.) and Golden History Park present Autumn Fest, a packed afternoon of fun with free family activities, including incredible chalk art, hourly puppet shows (plus hands-on stations to make your own show), 4-H petting zoo, craft stations, BIG TRUCK demo (Streets, Fire, and Police Departments), costumed Civil War interpretation, karate demonstrations and a hands-on paper-making station.
Golden Cemetery Tour, October 8
Get in the Halloween spirit by visiting the spirits of legendary Golden characters with storyteller Barb Warden at the Golden Cemetery. Tickets sell out for this event so get yours early. 
Colorado Railroad Museum's Harvest Haunt, October 22
Come in costume to enjoy this annual Halloween-themed steam up featuring the Olde Railroaders Silly Graveyard, "not-so-spooky" Haunted Railcars, a hay bale maze, and musical ensembles performing throughout the day in the outdoor pavilion. An authentic, coal burning Colorado steam locomotive will pull trains for this event. 
Sip Your Way Through the World's Biggest Little Beer Town with Tap Trails!
Did you know that Golden brews more beer than any other city on the planet? Be part of Golden's legendary craft beverage scene with the Golden Tap Trail, a free mobile passport that will take you to the best breweries and distilleries in beautiful Golden. Score great deals and discounts at your favorite local breweries and distilleries. You can redeem deals at ten locations and earn a Golden Tap Trail stainless steel pint glass. What a great time of year to try this out with all of the delicious fall beers our local breweries are releasing. Cheers!
Visit Golden Offers Savings on Your Perfect Golden Fall Day
With inflation and high gas prices, many of us are looking for ways to save this fall while still enjoying fun with friends and family; the new and FREE Golden Savings Pass will allow visitors to do exactly that. Shop,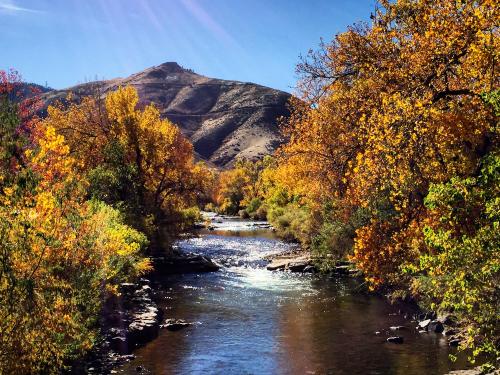 dine and explore Golden with discounts from over 50 local attractions, retailers and restaurants. What a great way to get out and support local businesses! 
Fall Foliage by Foot
Denverites love to "go for the gold" in the fall, setting out on day trips as the aspens put on their annual color show. But the gold rush from Denver can mean bumper-to-bumper traffic. A better idea? Golden, Colorado. Avoid crowded highways and chart a gorgeous drive – or hike – through splendid fall colors around Golden and in Golden Gate Canyon State Park. You'll miss the crowds, save time and can even enjoy leisurely post-fall foliage fun at Golden's acclaimed restaurants, beer gardens and outdoor patios. Check out some ideas for hikes and drives here. 
And – it's never too early to mark your calendars for Golden's beloved holiday events. More details coming soon…
Small Business Saturday, November 26
Golden Candlelight Walk, Friday, December 2
Olde Golden Christmas Parade, December 10
Jingle On The Avenue – December 17