Don't Waste Time in the Car Driving –
Hit the Trails Running and Enjoy Family Fun in Nearby Golden, Colorado
The kids are out of school for a week—what have you got planned? Nothing? Have no fear! Gorgeous Golden, barely 15 minutes from downtown Denver, offers fun, sun and a little splash of relaxation. Here are a few highlights to get you dreaming: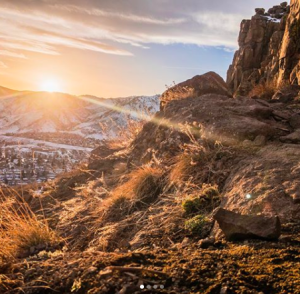 Hike, Bike or Climb in the Colorado Sunshine – Springtime in the Rockies can be – well, a snowy, muddy mess. But Golden is in the "banana belt" where the mountains meet the plains, making it the perfect place to get a jump start on summer mountain recreation. North and South Table Mountain receive lots of sun and offer snow-free trails most of the year, perfect for hiking. You can cruise Clear Creek Trail on your bike. Or learn to rock climb with Golden Mountain Guides.
Step Back in Time – The kids will never know they're getting a history lesson when you walk into the Golden History Park. Check out the one room schoolhouse and frontier cabin, as well as the chicken coop and heritage gardens. Then walk over to the 1.5 mile long gravel Triceratops Trail, where you can run a path in the great outdoors hunting for dinosaur tracks.
Walk Clear Creek & Grab Lunch in Golden – Golden is a town that was made for walking! The beautiful Clear Creek walking paths offer gorgeous mountain views and plenty of spots to sit and watch the kayakers paddle by. Afterwards, walk into town and grab lunch at D'Deli – or better yet, start there and bring your delicious sandwiches down to the creek to enjoy a creek side first picnic of the season.
Enjoy a Patio-- Golden is completely surrounded by mountains, buttes and views, so it's the perfect place to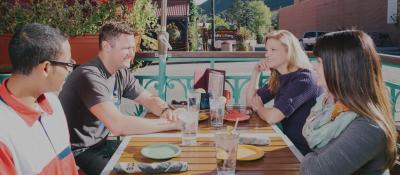 sit at a patio, listen to some music and see and be seen.  Some of the best patios?  The huge deck and fountains of the Sherpa House, the center of the action patio at Woody's Pizza, the outdoor deck of Mountain Toad with food trucks and dogs welcome, Charlie's backyard at Golden City Brewery (the brewer lives in the house – you are literally in his backyard), and the long deck along Clear Creek at the Golden Hotel's Bridgewater Grill where you can watch kayakers and rafters.
Dazzle at the Colorado School of Mines Geology Museum – With shiny gems that dazzle, fossils to educate, and even a moon rock to inspire, your little one  - and your budget - will love the free Geology Museum.  Check out Miss Colorado's jewel-studded crown and enter a uranium mine.  And don't forget to visit the gift shop, where you can literally take home a small piece of Mars.
Cowboys & Mountain Views – Head up Lookout Mountain to give your littles a taste of the Wild West with Colorado's most famous Westerner, Buffalo Bill at the Buffalo Bill Museum.  Buffalo Bill was a showman with fancy hats and outfits.  Your buckeroos can be too!  One of the favorite activities is dressing up as cowboys and cowgirls with chaps, hats and ropes in the "selfie-station" made for memorable photos.
All Aboard at the Colorado Railroad Museum -- There are dozens of locomotives and cars to climb on and explore, and the basement of the museum is one of the largest model railroad displays in the state – an entire city of miniature trains with a circus, fire engines, mining camps and hundreds of buildings and figures to explore.  Throughout the spring, there are special steam excursions like the Bunny Express (complete with Easter Bunny and egg hunts), which give kids a chance to see real steam engines, smoking and blowing whistles, just like Thomas.
For more information on Golden activities, dining and shopping, head to visitgolden.com. And why not make a night of it? Both The Golden Hotel and Table Mountain Inn feature outstanding restaurants and a perfect place to call home while you explore Golden.