Broncos fans love game day! But before you cheer on the Broncos, head to Golden to hit the trail, knock out a mountain adventure and stock up on snacks. Golden is only minutes from most anywhere in Denver, giving you plenty of time for fun before kick-off.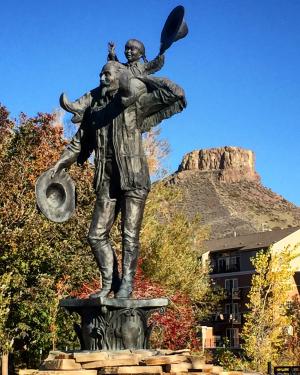 So this Sunday, put on that orange jersey and head to Golden for one of these pre-kick-off adventures…
Hut, Hut, HIKE! Fall is a delightful time for hiking around Golden. Scramble over and around giant red boulders at Mathews Winters, climb to the top of South Table Mountain for spectacular views, or hike up Galbraith Mountain, high above Clear Creek Canyon. It's hard to believe just how close Golden is to Denver – it feels a world away but don't worry, you'll be back in time for the game.
Go for the Gold.  Did you miss fall colors in the mountains this year? Well, no worries. The gorgeous cottonwoods (which are from the same tree family as aspens) are still bright gold in Golden.  The paved Clear Creek Trail runs through the center of town and up into Clear Creek Canyon with many trees still at peak color as you crisscross over the creek on a series of bridges.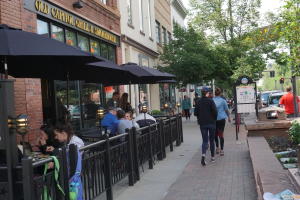 Enjoy Brunch on a Patio.  Golden offers ample outdoor seating for socially distanced fun with a wide variety of brunch options. Dig into homemade pastries and coffee creations at a Golden coffee shop. Indulge at the Buffalo Rose with Colorado Poutine (French Fries, cheese curds, Pueblo green chile gravy, two eggs and green onions. Add pulled Colorado lamb for a true Centennial state meal).  Down the block, there's outdoor, creekside dining with a Southern and Cajun flair at Sassafras American Eatery, where shrimp and grits, biscuits & gravy, fried green tomatoes, catfish and crab cakes await.  Or try Tributary Food Hall & Drinkery with food stalls offering Kona bowls, tacos, gyros, pizza and other treats, all with a full bar.
Take Home a Tailgate Party.  After some fresh air in Golden, load up on what you need to bring a tailgate party to your living room.  Table Mountain Inn Grill & Cantina makes phenomenal Wings (Dry Rub or Honey Habanero, Ranch or Blue Cheese) and Snake Bites with Red Pepper Ranch, Chips, Salsa and Guacamole.  Why not a game day favorite of a Woody's Wood Fired Pizza. The Cheese Ranch offers amazing cheese boards, D'Deli is famous for delicious sandwiches and Bob's Atomic Burgers offers delicious burgers. Oh, and let's not forget a growler from your favorite Golden craft brewery for game time!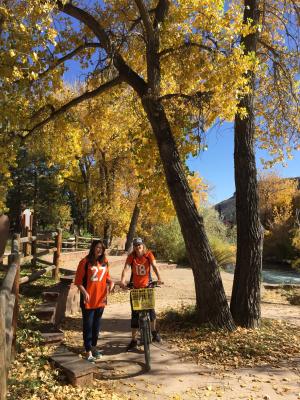 Bike Around.  Golden is the bike capital of the Front Range. Do you have what it takes to conquer Colorado's most famous hill climb, Lookout Mountain?  There's only one way to find out.  It's less than five miles to the top, but the road climbs 1,600 feet with grades of 5-6%.  There are more than a dozen hairpin turns, each with a spectacular view in a different direction. Of course, there are many other paved and dirt biking trails all around Golden, from Apex to North Table Mountain.  It's no wonder every major bicycle race held in Colorado has included a stop in Golden. 
Shopping.   You don't want to go near a mall before a Broncos game! It can be a madhouse while everyone tries to get everything done before kickoff. But not in small town Golden where it's easy like Sunday morning shopping at the mostly locally owned downtown stores. With a hometown hardware store and local merchants offering pet supplies, toys & games, candles, fashions, sportswear and recreation, not to mention, jewelry, art galleries, consignment and more, Golden has it all.
Arts & Culture. Before you get sporty, why not indulge your inner artist or intellectual with a visit to one of Golden's museums or attractions. Step back in time at the Golden History Museum & Park, check out the latest exhibit at Foothills Art Center or the Rocky Mountain Quilt Museum or take a walking tour of Golden's public art.
Fun with the Kids. Your kiddo might not yet have blossomed into a Broncos fan. So, get out and romp where the dinosaurs once roamed, ride a steam train, play cowboy and whoop it up in Golden to tire out the kids before kick-off. Here's a list of great kiddo adventures in Golden.
You can enjoy a perfect Colorado day before kick-off with a Visit to Golden. And, don't forget, if you're having too much fun to head home, Golden's a great place to catch a game too!