This Spring Break, don't break your budget! Spend your free time in Golden without spending a dime. Only 20 minutes from downtown Denver, Golden feels like a world away with its historic downtown,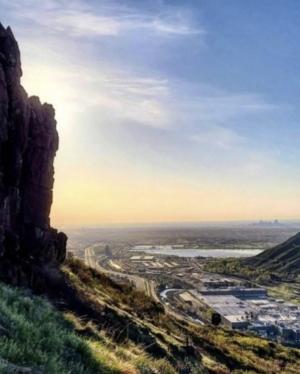 museums, cultural attractions and abundance of parks, trails and recreation you can experience for free.
Here are a few of our favorite free activities.
Self-Guided Walks & Scenic Drives
Golden History Walking Tour: Created by the Golden History Museum, the free, downloadable tour directs you to 16 historic spots in Golden and winds one-and-a-half miles past beautiful homes, stone buildings, gardens, a re-created historic homestead and school yard. 
Golden Public Art Walking Tour: Pick up a free Golden Public Art Walking Tour Brochure at the Golden Visitors Center and take a delightful stroll past the more than two dozen public art works, beautiful statues and murals that capture the spirit of the West.
Triceratops Trail: Triceratops Trail, a 1.5-mile gravel hiking trail, winds between large, vertical walls of sandstone and into reclaimed clay pits. Along the trail are stops highlighting clay mining and dinosaur, bird, mammal, insect, and invertebrate tracks and traces, as well as several walls full of plant impressions.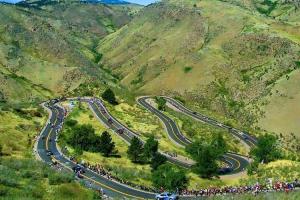 Lariat Loop: Spend a pleasant afternoon cruising the 40-mile route that retraces the motoring adventures of the early 1920's. Drivers experience the thrill of foothills exploration at the dawn of the Age of Motorcars. Colorado's first gateways to the mountains still have sharp curves, winding roads, spectacular views, and waysides to refresh and delight the traveler. Enjoy amazing vistas of the Rocky Mountains and the Great Plains or stop at one of the many attractions along the Loop.
Attractions with Free Admission
The Mines Museum: Located on the Colorado School of Mines' campus, the Mines Museum is home to one of the state's two Goodwill moon rocks collected during the Apollo 17 mission and offers an extraordinary collection of rocks, minerals, gems and specimens. Don't miss their simulated uranium mine or the gift shop. Plan ahead as reservations are required.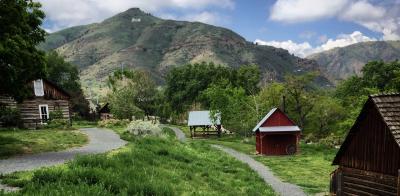 Golden History Museum & Park: Step back in time to a mountain homestead when you visit the three-acre Golden History Park, which features a one room schoolhouse, log cabins, blacksmith shop, and chicken coop with heirloom-breed chickens. Across the creek is the Golden History Museum, with exhibits on the city's rich evolution from a mining supply town to being home to innovative and world-famous companies.
Foothills Art Center: Housed in an 1872 Gothic-style church, an 1892 Queen Anne style manse and a Victorian-era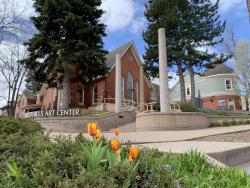 mansion built in 1899, and surrounded by a sculpture garden, Foothills Art Center offers an engaging rotation of exhibits and classes to inspire the community.
Lookout Mountain Nature Center: Kids and adults can connect with the natural world and learn more about it through free educational programs and exhibits at the Lookout Mountain Nature Center. Interactive exhibits take visitors on a tour of the flora and fauna of the foothills ecosystem. Kids and adults alike enjoy the hands-on playroom, observation room, and wildlife sightings. At each turn, visitors discover earth-friendly elements of the building's sustainable design, including floors made from recycled train boxcars.
The Boettcher Mansion: In the heart of the Lookout Mountain Nature Preserve, the Boettcher Mansion provides a rare combination of historic authenticity and modern convenience. Tour the mansion and enjoy the historically accurate interior and Craftsman-style furnishings.
Free Recreation
Rent a Free Bike from the Golden Bike Library: "Check-out" a free bike for up to two hours for local use! The program runs from late Spring through October and provides adult and children's bikes behind the Visitor Center. Not opened yet? Bring your own bike and pedal the trails!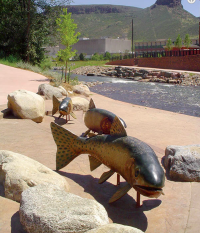 Hikes & Trails: By far, the most popular free activity in Golden is to walk along Clear Creek or a hike in the foothills. Get out and enjoy the area's abundance of natural beauty located only 20 minutes from downtown Denver. Some popular trails include: North Table Mountain, Mount Galbraith and the Peaks to Plains Trail, an easy paved, all-weather bike and hiking trail along Clear Creek and through some of the most dramatic parts of the canyon between Golden and Idaho Springs.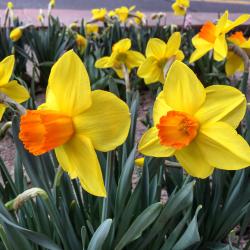 Workout at Red Rocks: Rolling Stone Magazine named Red Rocks Amphitheatre the No. 1 outdoor concert venue in North America. But it's also a stunning spot for free fitness. Most mornings, you'll find a dedicated crew running the stairs, practicing yoga and hiking among the beautiful rock formations that gave Red Rocks its name.
Picnic by the Creek: Honored by Westword as the "best trail in Denver, the Clear Creek Trail is also a perfect spot to picnic. There are designated picnic tables, as well as benches and seats of you can spread out on the large rocks alongside the stream and watch the fly fishers and kayakers practice their crafts while catching sight of paragliders above swooping around Mt. Zion.
Note: Sunrise photo by @Jen_in_Colorado on Instagram