The magic of holiday traditions in Golden, Colorado returns in 2021 to offer the warmth and joy of a small Colorado town in the holiday season.  
 Gol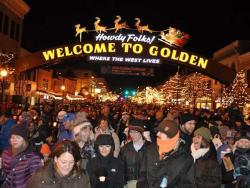 den's beloved Candlelight Walk will return on Dec. 3 with holiday revelers strolling Washington Ave. at 6:30 p.m., holding candles and singing carols, maybe even stopping for warm cider and hot chocolate along the way. Golden's Holiday Parade also returns, condensed from three weekends to one major parade at 10:30 a.m. on Dec. 11 with marching bands, floats, horses, Victorian carolers, antique cars, elves, Buffalo Bill, the Grinch, fire trucks, and, of course, Santa, waving merrily.
Shopping along Washington Avenue, Golden's festively decorated main street offers a true Colorado experience with mostly locally owned stores, including shops specializing in fly fishing, rock climbing, biking, skiing & snowboarding, camping and backpacking, as well as art galleries, jewelry stores, and fashion boutiques. The extremely popular Holiday Art Market at Foothills Art Center returns with a variety of artisan holiday art gifts, all created by 100 local Colorado artists.   
More than 45,000-holiday lights will illuminate Golden's downtown as well as the trees, bridges and walkways along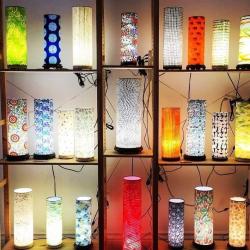 Clear Creek, while nearby, the Colorado Railroad Museum will be lit by the headlamp of an authentic steam locomotive, as the Polar Express once again steams through the night, bringing kids and Santa to the North Pole.
Golden's Holiday Happenings Include:
HOLIDAY ART MARKET AT FOOTHILLS ART CENTER – Open Nov. 19-Dec. 29, 2021, 10 am-5 pm on Mon.-Sat., noon-5 on Sundays. HART (The Holiday Art Market) is a cool shopping destination for one-of-a-kind artisan gifts. The entire historic Gothic Church and manse is filled with works from more than 100 local Colorado artists, offering the highest craftsmanship in fine ceramics, fiber, glasswork jewelry, paintings, woodworking, photography and special holiday items. HART is open seven days a week, Nov. 19 to Dec. 29, 2019 (closed Dec. 25 and 26) with free admission. 809 15th Street, Golden.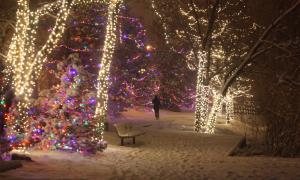 WINTER WONDERLAND HOLIDAY LIGHT DISPLAY Dec. 1, 2021, through Feb. 15, 2022, Golden's impressive holiday lighting display transforms the charming town into a winter wonderland with 45,000 glowing bulbs decorating downtown, the pretty walking path and bridges along Clear Creek, Golden History Park, Parfet Park and the Visitors Center.  Bundle up, pick up hot cocoa at a Golden coffee shop, and enjoy an evening walk along the creek under a cascade of twinkling lights.  It's so romantic, by popular demand, the lights stay up until Valentine's Day. 
OLDE GOLDEN CANDLELIGHT WALK, Dec. 3, 6:30 p.m.
Grab a candle and experience the beauty of the holiday season with a walk down historic Washington Ave.  Sing carols with neighbors and friends and marvel as the street is illuminated by thousands of glowing candles.  Pre-walk festivities and entertainment are planned for dusk near the Visitor Center and the walk starts from Foothills Art Center on 15th at 6:30 p.m.  Many of the shops along Washington Ave. stay open and there are hot cider, cocoa and outdoor cafes to enjoy along the way.  2021 Commemorative Candles available for purchase while supplies last.
GOLDEN ELF ACADEMY at the Golden Mill,  Dec. 5, 11 a.m. or 1p.m.
Get sworn in by Santa himself as one of his official Golden Elves at the 2021 Golden Elf Academy. It's the perfect Christmas event for ages 10 and under, includes singing, dancing, elf crafts, an Elf Kazoo band, cupcakes from Gold Mine Cupcakes with Ms. Claus, and includes a photo with Santa and his elves. Tickets are $20 per child and available at goldenelfacademy.eventbrite.com.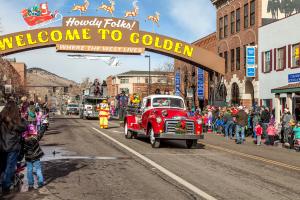 OLDE GOLDEN HOLIDAY PARADE, December 11 – 10:30 a.m.
The parade returns in 2021 for one spectacular day with all the favorites including elves, marching bands, floats, Victorian carolers, antique cars, the Grinch, Buffalo Bill, and, of course, Santa. The parade route runs down Washington Ave. from 10th St. to 13th St. starting at 10:30 a.m. After the parade, grab lunch at one of the many restaurants lining Washington Ave., or shop the galleries, boutiques and stores of colorful historic downtown Golden. 
FREE HOLIDAY CARRIAGE RIDES, December 11, noon – 3 p.m.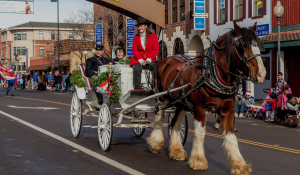 Following the parade, there will be free holiday carriage rides sponsored by GoldenToday.com. Pick up your ride on 12th Street between Washington Avenue and Miner's Alley.
FREE GOLDEN HAYRIDES WITH SANTA, December 4, 11 a.m. - 1 p.m. and December 18, 2 - 4 p.m. Pick up your ride at Gold Mine Cupcakes and roll through town on the Golden Haywagon with the jolly man himself!
LETTERS TO SANTA, November 27 – December 17. 
Drop your letters to Santa in the festive Mailbox at the Golden Visitors Information Center. Leave a return address and the jolly fellow will even write back!
THE POLAR EXPRESS AT THE COLORADO RAILROAD MUSEUM, Mid-Nov. to Dec. 23, 2021, The Polar Express returns in 2021 with much fewer restrictions and all the magic of a genuine huffing and puffing steam locomotive pulling up to the station, bells ringing and whistles blowing, to take passengers on an exciting trip to the North Pole.  Ticket sales begin in October and can sell out quickly, so check their website.  https://coloradorailroadmuseum.org/polar-express/
HOMESTEAD FOR THE HOLIDAYS, Dec. 18, 5-8 p.m.  Celebrate the holidays the pioneer way at the Golden History Park.  This family event allows you to stroll through the Golden History Park, take in the colorful lights, try a craft, duck in the farmhouse and old school and bask in the season. It's time to go home(stead) for the holidays!
JINGLE ON THE AVENUE, A HOLIDAY CHARACTER MINGLE, Dec. 18, 11 a.m. – 2 p.m. Spend a magical day in Golden meeting and mingling with family favorite holiday characters along Washington Ave. Your little ones are sure to be delighted and there will be plenty of photo opportunities, live music and lots of festive holiday fun for the whole family.
FOLLOW A TAP TRAIL THROUGH THE BIGGEST LITTLE BEER TOWN IN THE WORLD!  Golden brews more beer than any other town in the world and has eight award-winning craft breweries, distilleries, a cidery and plenty of outdoor dining and drinking opportunities to help you ring in the holiday. Golden's Tap Trail is a mobile passport offering deals and prizes when you download the free passport and take part in Golden's legendary bar and brewery scene.