"I'm not a coffee-drinker, but I spend a lot of time in Golden coffee shops meeting with citizens and handling city business," says Marjorie Sloan, the Mayor of Golden.  Since the position of mayor does not come with an official office at City Hall, Marjorie goes directly to the people. "Golden has so many wonderful spots to meet and have a conversation, and I try to support them all," she says.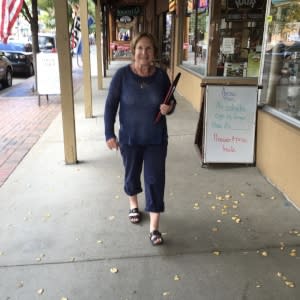 For Marjorie, most any day in Golden is perfect. Her love for the city runs deep. Growing up, she moved frequently and never had a hometown. Landing in Golden in 1976 when her husband accepted a job at Colorado School of Mines, Marjorie knew she'd found her hometown at last. She and her husband, a professor at Colorado School of Mines, raised their two sons here. Marjorie was a practicing attorney and retired shortly after she became mayor. She's served as Golden's mayor since 2012, a position she absolutely loves and hopes more people will consider running for elected office in our city.
"It's a real delight and privilege to serve as the Mayor of Golden," she says.
Here's a rundown of Marjorie's perfect day in Golden…
For Marjorie, the perfect day begins on her bike. She's not too proud to admit her bike is an e-bike, which gives her an extra boost when climbing Golden's hills. Marjorie starts her day riding her e-bike from her home in Beverly Heights to the Pilates Center for a mid-morning Pilates class which will fortify her for the day ahead. "The Pilates Center is such a calming and peaceful environment,"  she says.
Afterwards, Marjorie typically has meetings at local businesses. She enjoys Sassafras for its delicious food and creek side location but other favorite morning meetings spots include the Windy Saddle and Café 13, where she'll meet with community groups such as the Golden Giddy-Up.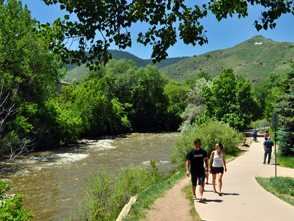 A perfect day would definitely include a stroll along the Clear Creek Walking Path. Marjorie recently had the privilege of entertaining a group of emerging African civic leaders in Golden. Instead of learning about Golden from inside, they went on a walking tour. The group had visited communities across the nation, but said Golden was their favorite, especially Clear Creek Walking Path. "It's such a centerpiece to Golden. People gather here to exercise, to visit with friends, to kayak or fish or to just sit and enjoy the beauty. It's such a wonderful spot," she said.
Marjorie usually works from her kitchen in the afternoons. She spreads out her paperwork on the kitchen table while taking in the views of Golden. Her home overlooks a trail and she enjoys seeing fellow Goldenites hiking and biking along Golden trails. She's even been known to bake cookies for trail maintenance volunteers.
Early evenings are often spent attending functions. When she has a free night, Marjorie and her husband like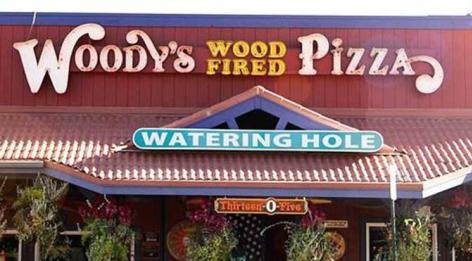 to try new restaurants. She is gluten free due to having celiac and is impressed that most every Golden restaurant serves gluten-free offerings. She also enjoys Holidaily Brewing Company now and then and is thrilled to see how this Golden gluten-free brewery has grown. When Marjorie's two young grandchildren are visiting, they insist on dinner at Woody's. "Everyone loves Woody's," Marjorie notes.
Marjorie is part of the Go Farm Food Co-Op which supports local farmers. She doesn't consider herself a "routine cooker," but thinks it's fun to experiment with the locally grown produce that Go Farm delivers each week. She also frequents the Bridgewater Grill and Cantina at Table Mountain Inn. "There are so many excellent spots to choose among in Golden," says Marjorie.
All in all, to Marjorie, Golden is a place to enjoy the slower, more relaxed pace. She thinks it's a bit of a hidden gem. "I do a lot of work with other Metro mayors and whenever they come to Golden, they are always pleasantly surprised," she said. "Most people think they know Golden, but it you don't take the time to get off I-70 or 93, you don't really see what a special community it is." Out-of-towners are also frequently commenting to Marjorie how convenient it is that in Golden, you really only need to park once. "Almost everything is within walking distance," she notes. "This makes for a very stress-free existence and is so very convenient."
Marjorie's perfect Golden day ends as she enjoys a sunset with her husband and friends on her back deck. "We love to watch the lights of Golden turn on as everyone settles in for the night."