In Golden, Colorado, it's not unusual to see hang gliders floating down a mountain, while world class cyclists pedal up it.  The closest mountain town to Denver, Golden is just 12 miles from the state capitol building, but is a world away in atmosphere, terrain, and adventure. Photo credit: @slacklarsen.
Just some of the extreme sports available in Golden include: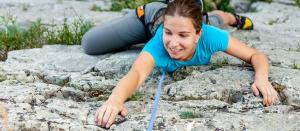 Rock Climbing:  Clear Creek Canyon begins in Golden and offers some of the best rock climbing in Colorado. It is largely known for sport climbs with some trad climbs interspersed. The rock varies from gneiss and schist to a sandy granite with a variety of ratings. Beginners head to the Canal Zone, which can be accessed by foot from downtown Golden using the farthest west footbridge over Clear Creek.  Little Eiger, Red Slab and High Wire Crag also offer beginning routes to work you up to Primo Wall, Anarchy Wall and New River.  And if you've never climbed, or just want to sharpen up, head to Earth Treks Golden.  This is the premier indoor rock climbing and bouldering gym in Colorado.  The 28,500 sq. ft. facility has 45-foot high walls with 300 roped routes and some 100 bouldering problems to twist, stretch, and pull yourself over.  The walls were designed by rock climbing legend Jason Kehl, the eclectic climber who was the first person to ever boulder a 5.14d grade route.

Mountaineering:  Opened in February 2008, Golden's Bradford Washburn American Mountaineering Museum is the first and only museum in the United States dedicated to the heroism, technology, culture and spirit of mountaineering.  Whether you have climbed a dozen fourteeners, or are just thinking about summiting your first, this is the place to start.  There are exhibits about climate, the science of mountains, Colorado's 14ers, lightning, and the history of mountaineering in both Colorado and around the world.  The clothes worn by the first Americans to summit Mount Everest are here (made by a then little-known designer named Eddie Bauer) as is an ice axe that climber Pete Schoening used on K2 to single-handedly save six teammates from falling to their deaths.  There are 5,000 other items, photos, outfits and cultural artifacts on display, including a huge model of Mount Everest, showing the many different ways the peak has been climbed, and where some of its most famous tragedies have occurred.  There's also an exhibit on the famous 10th Mountain Division, a regiment of U.S. troops that trained in Colorado to fight in the mountains of Italy during World War II.
Golden resident Erik Weihenmayer is the only blind person in history to reach the summit of Mt. Everest, has been featured on a Time Magazine cover, and has climbed the Seven Summits (the highest points on each continent).  He has written books, kayaked the entire 277-miles of the Colorado River through the Grand Canyon, and co-founded No Barriers, an organization headquartered in Golden that helps people with challenges face barriers head on and live rich and meaningful lives. 
One of Erik's favorite Golden restaurants is Sherpa House Restaurant and Cultural Center.  It was built by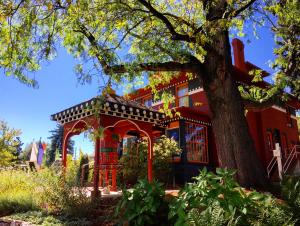 Lhakpa Sherpa as an authentic representation of a typical Sherpa house in the Solu-Khumbu region of Nepal. When Lhakpa wanted to offer a beer from Nepal to go with his authentic dishes like yak stew, he discovered there was none.  So he got with has neighbor, Charlie Sturdavant (owner of Golden City Brewery) and they opened the first brewery in Nepal.  You can taste their creation at the Sherpa House.  The beer's name?  Why, Sherpa Beer, of course, made with water from the Himalayas.
Cycling:  The climb up Lookout Mountain from downtown Golden is one of the most iconic cycling routes in Colorado and one of the very few to be featured twice in the U.S. Pro Challenge with some of the world's top riders.  The paved road snakes, twists and turns, climbing 1,300-feet in 4.3 miles, from historic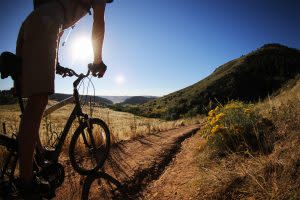 downtown Golden to the 7,379-foot summit of Lookout Mountain.   The scenic road was designed by Frederick Law Olmsted, Jr., the son of the famed landscape architect who created Central Park in New York.  It was built in 1914 as part of the Lariat Loop Trail, a series of early scenic paved roads that connected the famed Denver Mountain Park system.  The area around Golden is filled with extreme mountain bike routes, from the five mile loop around North Table Mountain to the Apex trail network, Dinosaur Ridge, White Ranch, and the Enchanted Forest.  Golden also has some of the most relaxing streamside paved trails in the region.
Slacklining: Possibly the newest extreme sport craze to hit Golden, you will find slackliners all summer long practicing their craft at Golden Cliffs, in several Golden parks and even featured in the Golden Games. Slacklining is walking, balancing or bouncing across a length of flat webbing similar to a tight rope, tensioned between two points. Slackliners almost always attract a crowd and often in Golden you'll find them in the midst of onlookers who enjoy the show of athletic grace and bouncy fun.
Hang Gliding:  Golden is the center for foot launch hang gliding off of Mount Zion, the 6,800 foot high peak adjacent to Lookout Mountain.  The skies above Golden are often filled with a half dozen gliders curling down to a landing spot near the Colorado School of Mines.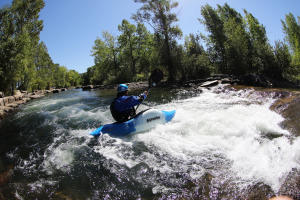 Water Sports:   Clear Creek flowing through Golden has become one of the extreme rafting and kayaking centers in Colorado, with more rapids per mile than any other commercially rafted river.  While commercial rafting puts in at Idaho Springs, the lower portion of Clear Creek closer to Golden is the center for kayaking.  There are even a dozen man-made tubing chutes in the heart of downtown Golden, which is filled with hundreds of tubers throughout the summer.
Outfitting:   Golden is center for recreation shops for all sports.  Bent Gate Mountaineering, Vital Outdoors, Icelantic, Golden Bike Shop, and Golden River Sports are just some of the outfitters in town.
Beer:    What would extreme sports be without beer?  Golden brews more beer than any other town in the world.  Coors is the largest single brewing site on the planet, and Golden has six craft breweries, all with dog-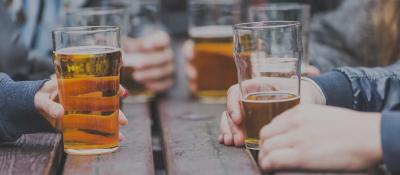 friendly outdoor beer gardens and mountain views. 
No matter if you enjoy extreme sports or more mild mannered recreation, Golden the place to be for mountain sports. For more information, check out VisitGolden.com.