You may have noticed that we like our craft beer and good food here in Golden and one of our favorite ways to burn those calories is to hit one of our numerous trails. Golden is an outdoors-lovers paradise with dozens of miles of trails pleasant enough for a nice stroll or an incline that can challenge even the most fit.
In order to have a safe and fun time on one of Golden's trails, here is some advice from a local to prepare you.  Then get outside and have fun!
WHAT YOU NEED TO KNOW TO HIKE IN GOLDEN
Know your capabilities -  We have trails that wander along Clear Creek and we have trails that go almost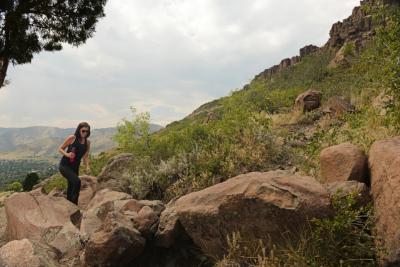 straight up a mountain. Not all trails are created equal and understanding which trails may be best for families and which trails are more of a challenge is essential. If hiking with small children consider a child carrier backpack to make it easy on them and allow you to see more of the trail.
Hydration – Notice the people always carrying a water bottle with them? Golden is a semi-arid climate meaning you have probably already noticed the lack of humidity in the air.  Drinking water throughout the day is our solution. When hitting the trails, always carry extra water with you regardless of how far you may be hiking. Also be sure to carry plenty of water for your kids or pets.
Altitude – Sun protection, including sunscreen and sunglasses, is a must for everybody. At our altitude the sun's rays are much more intense and without proper protection you can get a sunburn as an unwelcome souvenir.
Weather – Weather around here changes quickly, from sunny and cloudless to a 10 degree drop in temperature and a thunderstorm within 15 minutes. Locals dress in layers and carry a light rain coat every time we hit a trail for good reason.   Ever heard of "Sunny Rain"? It's not just a beer but one of those unique Colorado experiences you may get to enjoy.
WHAT TO TAKE HIKING IN GOLDEN
What to take hiking with you? With our combination of dry climate, fast changing weather, intense sun and challenging trails, it is important you have the appropriate footwear and carry certain items with you anytime you hit a trailhead. Carrying a comfortable daypack or lumbar pack is the easiest way to ensure you have what you need with you and will go a long way towards your enjoyment of our outdoor paradise. Some of the essentials you will want in your pack: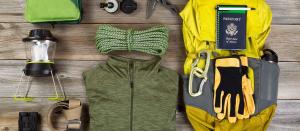 Plenty of water (extra water for dogs & kids)
Sun protection (hat, sunscreen, sunglasses)
An extra layer of clothing and a rain coat
Snack food
Trail map
First aid kit
Flashlight
THINGS TO LOOK FOR ON GOLDEN HIKING TRAILS
Wildlife – You may be fortunate to see elk or deer anywhere within the area – just keep your distance.
Rattlesnakes are widespread and common to our area, though they want as little to do with you as you do them. Stay alert, keep your kids and dogs with you and stay on the trail.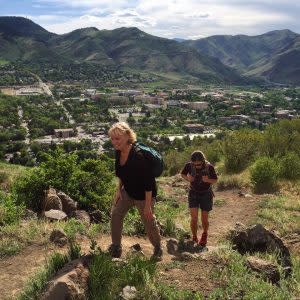 Trail etiquette – More important around here than dinner table etiquette is how you interact with others on the trail. Please note the trail etiquette triangle at most trailheads and respect the other trail users. When lucky enough to be going downhill, it is old fashioned courtesy to step aside for other trail users as they are working their way up the hill regardless if they are on foot or a bike; however, bikers are generally expected to yield to hikers on the trail.
WHERE TO OUTFIT FOR HIKING IN GOLDEN
Don't have the items needed to hit the trail? There are many outdoor stores in Golden including  Mountainsmith, Vital Outdoors, Bent Gate Mountaineering and Runners High to name a few that sell the gear you will need. If you're just visiting for a short time and do not want to purchase the gear you can rent it instead. Mountain Side Gear Rental rents backpacks, lumbar packs, child carriers and carry's a large assortment of outdoor gear and supplies. They rent this gear by the day and can deliver the gear to downtown Golden.