It may not seem like it yet, but Spring is on the horizon in Golden, Colorado, and Denver's closest mountain town offers an amazing choice of events to get you up and about…starting this weekend!
Feb. 21-23, 2019: The Colorado Environmental Film Festival (CEFF) is a celebration of the inspirational, educational, and motivational power of film, featuring the world premiere of 20 films, including films from six countries. Both local and national, short and feature length films will be shown ranging from award winning pictures such as Elephant Path to new films, including ones made by a six and 12 year old.  Audiences have the opportunity to be more than passive viewers – they will leave inspired, surprised, motivated, entertained, and transformed through events that will involve both filmmakers and audience members in thought-provoking dialogues and filmmaker forums.
Feb. 22-July 31, 2019: The Art of Innovation: DaVinci and Michelangelo and Machines of Change: The DaVinci Machines. These exhibitions are free and open to the public at the Arthur Lakes Library on the campus of Colorado School of Mines with more than 30 high-resolution digital reproductions on display. Viewers will be able to listen to an audio self-guided tour to learn about DaVinci's innovative techniques in the creation of these masterpieces. Full-size reproductions of the Mona Lisa, Last Supper and other classics will be on display along with a special collection of a dozen high-resolution prints of Michelangelo's paintings on the ceiling of the Sistine Chapel in the Vatican.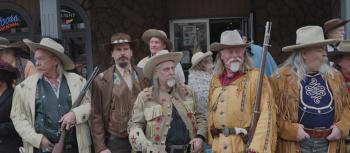 Feb. 24, 2019: Celebrate Buffalo Bill's Birthday at the Buffalo Bill Museum on top of Lookout Mountain with cake and fun facts about the West's most famous frontier scout and showman.
April 11-14, 2019: Colorado School of Mines E-Days. Since 1934, Mines students have put aside studying each spring to celebrate Engineering Days (E-Days) and honor CSM's unique traditions with cardboard boat races on Clear Creek, a concert, a Tesla coil demonstration, fireworks and more.
April 20, 2019:  The Bunny Express at the Colorado Railroad Museum.   Join the Easter Bunny for a steam train ride, participate in Easter Egg hunts, view model railroads, and climb aboard a caboose at Colorado's largest railroad museum. 
April 30–May 3, 2019: The Wright.  Inspired by hard working, independent-minded men and women of the Rocky Mountain Region, The Wright brings 3 days of discussions, workshops, keynotes and events all culminating in the high-energy, much-anticipated Award Night program. Throughout Golden.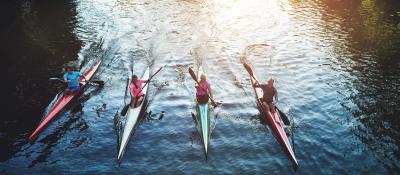 May 17-19, 2019: The Golden Games.  Declared the best paddleboarding event in Colorado, the three day weekend hosts a variety of sporting events, live music, demos, clinics, and more. Sports to be highlighted are Kayaking, Stand Up Paddle, Fly Fishing, Slack Lining and River Surfing.
June 1 – October 5, 2019: Golden Farmers Markets. Local produce, wines, hand-spun cheeses, and freshly baked bread are just some of the many products you will find at the Golden Farmers Market. Conveniently located near Clear Creek, the Market is where you can find Colorado's finest foods while also enjoying Golden's natural beauty.
July 8-14, 2019:  ARTSWEEK GOLDEN  This a week-long celebration of the arts orchestrated by Foothills Art Center in partnership with Golden arts-oriented organizations provides 168 hours of art!  All week long, visit Golden for pop-up art installations, plein air sessions, kids activities and a juried weekend arts festival. 
July 25-28, 2019: Buffalo Bill Days.  Thousands of people fill the streets of Golden for Buffalo Bill Days. Catch Cody's Wild West, the popular parade, mutton busting, live music, an orphan car and a classic car show, a golf tournament, food and merchandise vendors and, of course, Buffalo Bill and Annie Oakley!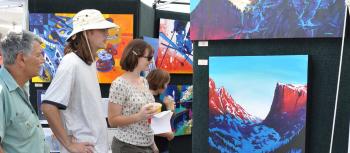 August 17-18, 2019: The Golden Fine Arts Festival. A Golden icon for nearly three decades, Golden Fine Arts Festival is a prestigious juried art show located in the heart of historic downtown Golden, Colorado. With free admission to the public, this premier event draws over 35,000 visitors over 2 days to enjoy art, live entertainment, beer and wine gardens, food vendors, and children's activities. The event is limited to 136 artist booth spaces.  Artists are selected through a competitive jury and traditionally, over half of participating Artists travel to Golden from outside of Colorado. 
For a complete list of events, activities, hikes, bike rides, restaurant and shopping opportunities, go to:  www.visitgolden.com